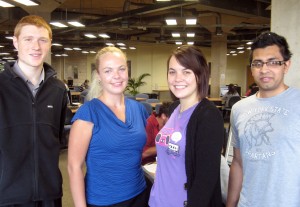 The Library Ambassadors were out and about recently in EHB and elsewhere asking students about their study preferences and concerns during the exam period. They also carried out a virtual survey via Facebook.
Based on the responses of 122 students, the survey learned that:
over half of you prefered to study in the Library (as opposed to at home or other places on campus)
most of you rely on your own lecture notes for revision (rather than using books, slides on Learn or past papers)
nearly half of you cited time management as your number one problem during exam time (followed by stress)
half of you were not aware of the Library's Know How courses
increasing the amount of study space across all areas of the Library is still your top priority
There's still time to add your feedback; either in person to one of the Ambassadors or via the Facebook survey (see link above).
Be sure to watch out for the Ambassadors' exam survival campaign… coming soon!