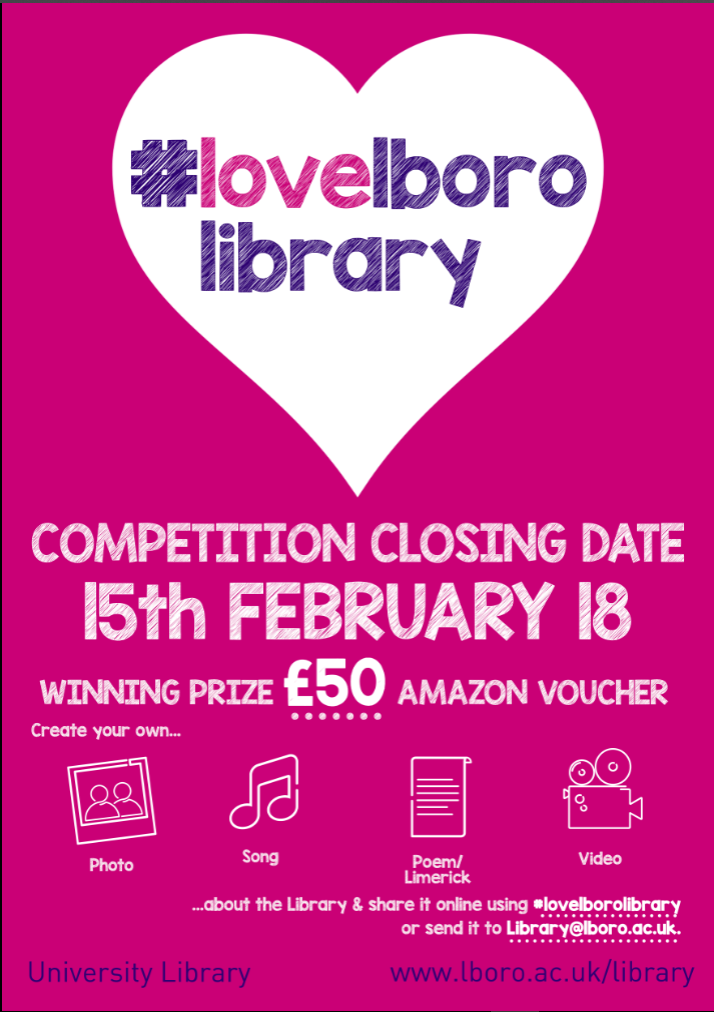 Love is in the air! It's nearly Valentine's Day and to mark the occasion we're running a competition asking you to tell us what you love most about your lovely library!
Express yourself and what you love most about the library through any creative medium that takes your fancy – a photo, a poem or limerick, even a song or an interpretive dance! Share it with us online on Twitter, Instagram and Facebook with the tag #lovelborolibrary or send it via email to library@lboro.ac.uk. Everybody who enters will be eligible for the grand winning prize of a £50 Amazon voucher!
The competition will run from 2nd February  to 15th February 2018.
Participants can submit up to 3 entries.
Each entry must have a title.
If submitting a photograph there are no restrictions in the use of any digital enhancements.
The competition is open to Loughborough University employees and students.
Entrants must obtain permission from anyone appearing in their entry.
By entering this competition, you agree to let Loughborough University use this work for promotional purposes.  Examples of this include but are not limited to, being included on the library's website or in promotional materials produced by the library.
We will select a number of entries to go on our Facebook page and then the University Library marketing group will make the final decision. Selection will take place after 15th February and a message will be placed on our Facebook page.
We'll also be running a stand in the foyer all next week with a special 'Love Your Library' theme, so look out for that too!