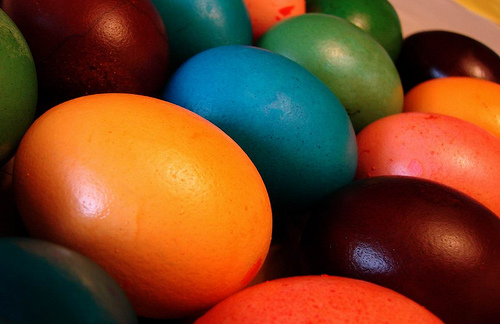 The Easter vacation is almost upon us, and while many of you are likely to be stocking up on books for revision over the holiday period (aren't you?), we'd just like to remind you of the old adage about all work and play making one a rather dull person. So why not beat this by helping yourself to something from our Leisure Reading collection up on Level 4?
With an ever-expanding range to choose from – over 400 books at the last count – encompassing literary classics old and new, award-winning novels, celebrity autobiographies, art, historical sagas, cinema & TV adaptations, contemporary poetry and a wide selection of popular graphic novels, we're certain there's something to meet every taste, whether it's something long and engrossing to tide you over the whole month, or something short and sweet to tempt your jaded reading palate. Why not pop upstairs and have a browse today?
Easter eggs by Marek52, reproduced under CC License from Flickr.