Calling all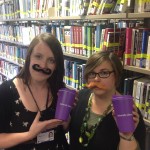 Mo Bros and Mo Sisters!
Come and help us celebrate Movember in the Library this Friday! Don't worry about not having your own Mo, the Library has a selection – as modelled by our staff – so anyone can come and join in. The best Movember mug shots will be posted on our Facebook site and shared with the Movember website.
Share 5 minutes of your time to give us feedback on the transformed Library and you can have a snazzy mug to take away with you. We will also be holding a Movember collection if you have any spare pennies for the cause.
Movember is a registered charity whose vision is "to have an everlasting impact on men's health", especially in the areas of prostate and testicular cancer. It has been running since 2007 and has gained momentum ever since – with sponsorship from shaving products and brown sauce suppliers as well as celebrity endorsements.