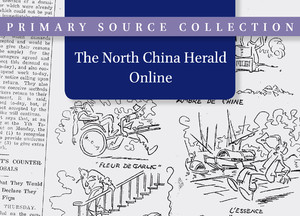 This month's database trial from Brill's Primary Source Collection takes a trip east as we explore the archives of a venerable Chinese newspaper.
The North China Herald is the prime printed source for the history of the foreign presence in China from around 1850 to 1940s. No other newspaper existed over such an extended period, and covers it in such incredible depth and variety. The fully text-searchable North China Herald Online will be one of the primary resources on a period which continues to shape much of China's world and worldview.
To begin searching, visit this link:
 http://primarysources.brillonline.com/browse/north-china-herald-online 
Access is via IP address and the trial runs to 18th August 2018.
We welcome feedback – good or bad – on this trial, please contact Steve Corns.c.corn@lboro.ac.uk with your comments.