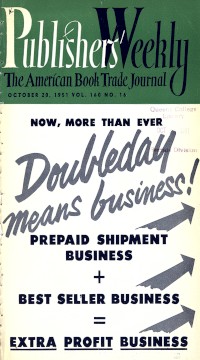 We're running a trial of another venerable and long-running popular publication now in digital format, Publishers Weekly, the American Book Trade Journal.
Continuously published since 1872, Publishers Weekly has consistently been the authoritative voice for US publishing industry news and book reviews, with ongoing coverage of the British book trade. The complete archive includes up to 400,000 book reviews, 5,000 author profiles/interviews, and bestseller lists from 1895 forward.
This primary source archive contains every page of Publishers Weekly published over its first 141 years, all in its original context, in full color, and fully searchable to support lines of inquiry into print media and digital culture, American studies, popular culture, history of the book, literature, history, humanities, and their many sub-disciplines. This collection contains 1,889 issues comprising 135,165 pages.
To access the archive go to: http://pubweekly.napubcoonline.com. Access is direct from on-campus.
The trial will run until December 7th 2016.
We welcome feedback – good or bad – on this trial, please contact Steve Corn ( s.c.corn@lboro.ac.uk ) with your comments.