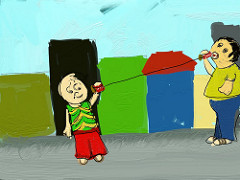 We live in a world where 'getting the message across' is an art which affects us all even if we don't think about it very much. Loughborough has several departments, however, whose business is very much to think about the 'message' and how it is communicated.
This is where the Library steps in. Among our many specialist databases is one called Communication Abstracts. Devoted entirely to the communications and media industry, it sifts through the literature to bring you that important article on, for instance, how we are persuaded to buy one product and note another, or the most effective communication strategy used to promote health. And because Communications Abstracts is selective in abstracting articles from only the most relevant and carefully selected sources, you don't have to spend hours separating the wheat from the chaff.
Communication Abstracts analyses the source material providing summaries and subject headings to help the selection process. This database provides many articles together with links to other available full-text articles using the SFX location finder.
You can find Communication Abstracts from the link in the Social Sciences Subject Guide – http://www.lboro.ac.uk/services/library/subjectguides/socialsciences/ – or from the Select Databases tab in Library Catalogue Plus http://lcp.lboro.ac.uk/
Just ask your Academic Librarian – http://www.lboro.ac.uk/services/library/contact/academiclibrarians – for more information.
Image courtesy of Ujwala Prabhu, Communication, 2007. Shared under a 2.0 CC BY-NC-ND 2.0 licence.