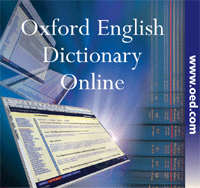 The Oxford English Dictionary Online website has recently updated and relaunched itself, and includes a host of new features.
The sites' search engine has been revamped and new filters are in place. There's an 'Aspects of English' section, a series of descriptive articles on language, past and present. And the Historical Thesaurus to the OED, first published in 2009, has been completely incorporated into the site, , so that you can follow semantic links throughout the dictionary.
Why not visit the site and have a play? You can access it directly via this link, or through Metalib, the library's own e-resource gateway.