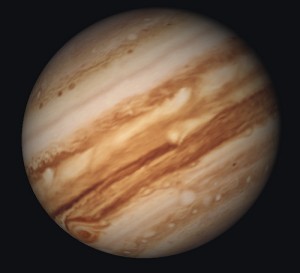 All this week is National Astronomy Week, and this year the event seeks to celebrate the planet Jupiter, the largest planet in our Solar System, which will reach its highest point in the sky for many years in early March.
The event, dubbed "Target Jupiter", will be running from the 1st -8th March 2014, when organisers hope that it should be possible for astronomers, amateur and professional, to be able take some of the best photos ever taken of the planet above British skies.
UK National Astronomy Week is held every few years or so to promote public awareness of astronomy by celebrating remarkable astronomical events.
Previous events have marked the return of Halley's Comet, the closest approach of Mars to Earth for 60,000 years and, most recently, the 400th anniversary of the first astronomical use of the telescope.
Stargazers don't have to look far for books on the subject in the Library, as we have a veritable galaxy of books about astronomy down among our science section on Level 1. Those with a more serious scientific interest than just settling down in the garden with a telescope may also find the NASA Astrophysics Data System database of interest.
To find out more about National Astronomy Week, visit their website here.
Planet Jupiter image by Tonynetone, reproduced under CC License from Flickr.