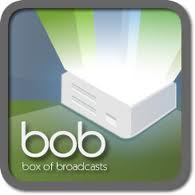 As of February 12th, Loughborough staff and students now have full access to the Box of Broadcasts (BoB) service again following some recent authentication issues. Just in time to make use of a range of new features which were launched when the service was updated in January.
Not familiar with BoB? It is an off-air recording and media archive service available to staff and students of member institutions of the British Universities Film & Video Council that hold an ERA+ license (including us). BoB enables you to choose and record any broadcast programme from 60+ TV & radio stations. The recorded programmes are then kept indefinitely and added to a growing media archive (currently at over a million programmes!), with all content shared by users across all subscribing institutions.
The user-friendly system allows staff and students to record and catch-up on missed programmes on and off-campus, schedule recordings in advance, edit programmes into clips, create playlists, share what they are watching with others, search a growing archive of material, plus more.
New features added in January include:
A new look website, with improved navigation
The addition of all BBC TV and radio content dating from 2007 (over 800,000 programmes)
Over 10 foreign language channels, including French, German and Italian stations
An extended 30 day recording buffer – more time to record missed programmes
Apple iOS compatibility – you can now watch BoB on handheld devices
Searchable transcripts
Links to social media – share what you're watching online
A one-click citation reference, allowing you to cite programmes in your work
You can access Box of Broadcasts at http://bobnational.net. Click 'login', choose 'Loughborough University' as your institution, then enter your usual Lboro credentials.