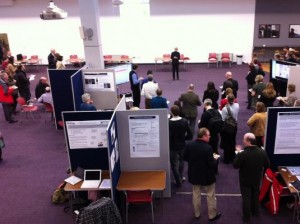 The e-learning showcase gave the Library a wonderful opportunity to highlight how we can support learning and teaching across campus, especially in relation to:
* the new version of the online reading list system
* use of QuestionMark Perception to assess students understanding of information handling and plagiarism
* e-readers and how they may be used in an academic environment.
If you want to know more, why not contact your Academic Librarian?
We also learnt about the exciting intiatives happening elsewhere around campus, so if you didn't make it, why not come to the next one?