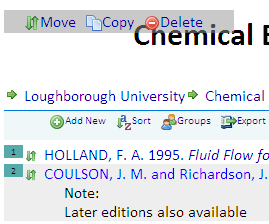 When updating your reading lists you can take advantage of the 'bulk operations' feature to move, copy or delete multiple items.
Simply click on the line numbers to select the desired items (highlighted here with by coloured squares) and a floating toolbar will appear at the top of the screen.  This toolbar will 'move with you' as you scroll down the reading list; great for long lists!
As always, we welcome your feedback on the reading list system. You'll find the feedback option in the top right of the reading list screen.
Coming soon: link to campus bookshop. Look out for our next post on new developments to find out more!