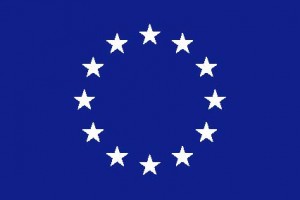 Anyone looking for free EU-related literature will be pleased to hear that leaflets and information sheets are now available from a designated area in the Library. Just pop down to the leaflet stand alongside the Information Desk on Level 2. A number of the slots have been stocked with leaflets and factsheets covering an array of EU topics including:
The European Union's enlargement
The European Union's budget
Road safety 2010: how is your country doing?
The European Disability Strategy 2010-20
Candidate and potential candidate countries
Just look out for the official EU emblem as displayed at the top of this post. Please feel free to take whatever you need.
Are you also aware that the Library houses a European Documentation Centre (EDC) –  an extensive collection of publications and documents of the European Union? Click here for more information and who to contact for further details.