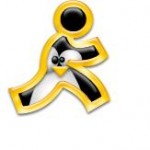 Ever wondered what those staff who wonder the floors of the Library are up to? Well, one possibility is that they could be one of the customer services team whose job it is to roam the floors to help out our users without them having to go to one of the enquiry desks.
The roaming staff work Monday – Friday between 11am and 3pm during the term, so if you see them and want some help, just let them know and they will be happy to help with finding books, printing problems or just helping you find where you want to go in the Library. They will have an iPad on them, so if you need to ask something to do with the catalogue, they will be able to give you an answer on the spot.
The roamers will also make sure people are behaving in an appropriate manner, that the printers are full of paper and that all the tables and chairs are kept neat on the lower floors. If you notice a problem that needs dealing with, let them know and we will take it from there.