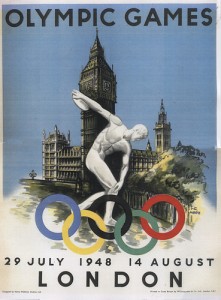 Here's a question – how many times has London hosted the Olympic Games?*
OK, that one is easy, but you may well want to delve a little deeper into the history of the Games and what better way than to start with the Library? Sprint, jog or walk sedately (preferred option) down to shelf location 796.48 on Level 2 of the Library and you will find several bays of books on the subject.
 Alternatively, look into any of the Library's 300 sports e-journals for specialist articles. How do you do that? I'm glad you asked. Just check out the Sports category of E-journals A-Z on Library Catalogue Plus or better still, use SportDiscus to search all things sport by subject. Did you know, for instance that there are 103 articles on the Olympics and Loughborough? No, nor did I. If you cannot wait to use this superb full-text database, in addition to finding it via Library Catalogue Plus, SportDiscus is also available via the EBSCOhost app on your mobile – just don't try to search while jogging!
And it doesn't stop there. Take a look at Nexis** for current and historic newspaper coverage from newspapers around the world, or the archival copies of The Times, Guardian, New York Times and Mirror with its wonderful collection of photographic images from the Games.
Just pop into the Library at any time and a librarian will be delighted to show you around our collections and resources.
* The answer is three times, 1908, 1948 (it should have been 1944 but the war got in the way) and 2012
** SportDiscus, Nexis and the newspaper archives are available from the Select Database options on Library Catalogue Plus.
Pictured is the 1948 London Olympic Games Poster, image copyright theirhistory, reproduced under CC Licence from Flickr.