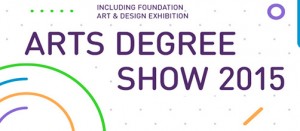 The School of the Arts will be presenting this year's Arts Degree Show to the public from Saturday 6th June. The show will highlight final year pieces by students from each programme area. Work displayed from Fine Art, 3D Design, Graphic Communication and Illustration, Textiles: Innovation and Design.
The work will be on display in the Edward Barnsley Building, the 3D Design Building and the Fine Art Building, and includes paintings and illustrations, fashion garments and textile patterns, sculptures, photographs, installations, short films and animations, portfolios of graphic design work and video game demos. Work will be on sale throughout the exhibition.
The exhibition opens with a private showing on Friday 5th June between 6-9pm – to book online, visit this link. Thereafter the exhibition will be freely open to all from Saturday 6th June to Sunday 14th June between 10am-5pm daily.