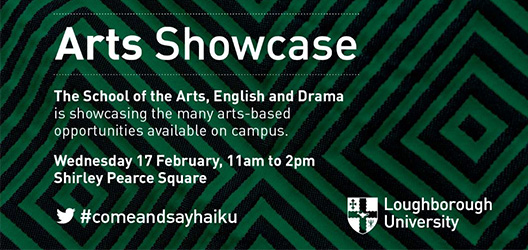 The Library's Leisure Reading initiative and Student Book Club will be represented on Wednesday (17th February) at a special showcase being held by the School of the Arts, English and Drama down at Martin Hall and the Shirley Pearce Square.
Other events to look forward to at the Arts Showcase will include live performances from the Stage Society, creative workshops, spoken word performances and open mic slots.
On the hour, between 11am and 1pm, members of the Stage Society will be giving a whistle-stop tour of this year's productions with three shows in 15 minutes.
The School's Creative Writing Group will be leading 15 minute informal drop-in workshops at quarter past the hour, providing a taste of what creative writing at Loughborough is like.
In association with the Speech Bubble, the Students' Union biannual spoken word event, students and staff will be presenting their own creative work at half past each hour.
Finally, open mic slots will be available in five three-minute intervals per hour for willing attendees share their work.
Information on many other arts-based projects on campus will also be available on the day. These include representatives from Flix (the University's student-run cinema), LU Arts, The Student Wordsmith and the School's own student-led publishing company, Lamplight Press.
The Arts Showcase will take place 11am-2pm at Shirley Pearce Square.