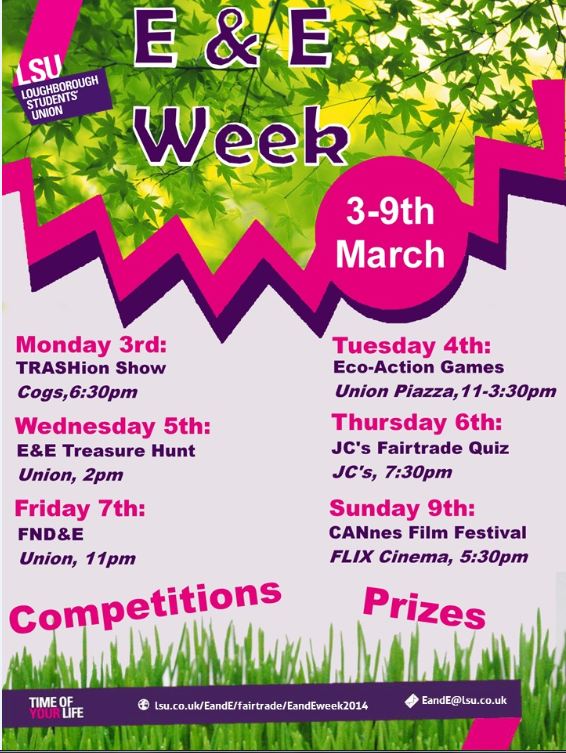 This week (3rd March to 9th March) is Environment & Ethics Week, which will see a wide range of very exciting events happening all over campus for students to get involved in.
These include the ECO-Action Games (Tuesday, 11am-3.30pm in the Blue Sky Room at the LSU) where you can have a go on a giant prize-winning game with an environmental twist, including snakes and ladders, bingo, Top Trumps and more.
On Wednesday 5th March (from 2pm outside the LSU) there's the E&E Treasure Hunt, in which you or your team are given an hour to race round campus and find the clues.
Then on Thursday 6th March (from 7.30pm, £1 entry) head down to the JC's Bar for the usual Thursday night Pub Quiz with an environmental twist. Swat up on your Fairtrade and Environmental knowledge for a chance to win a cash prize!
The week's events culminate on Friday 7th March (from 11pm) with FND&E. Show your support for all things Environmental by wearing green to FND. Even better come in Anything But Clothes and have a chance to win a VIP wristband for the Room 1 balcony. Look out throughout the night for giant fairtrade bananas walking around and much much more!
An environmental themed photo competition is also being run throughout the week – just send in your best environmental themed photo to eande@lsu.co.uk for your chance to win 500 loyalty points on your card. All entries must be submitted by Sunday 9th March.
For further details, visit the event's Facebook page here.