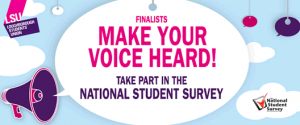 Finalists, don't miss your chance to fill in the National Student Survey (NSS) – it only takes a few minutes, and you'll be helping future students make the right choices about where and what to study.
The NSS is a national, independent and anonymous survey of final year students. It's an opportunity to give feedback on your time at Loughborough, which will help us to shape the University and the Loughborough Experience for other students, both now and in the future.
No one knows the University better than you, so your opinions about being a student at Loughborough are really important.
Go to www.thestudentsurvey.com to take part – the survey closes in only two weeks time!
For more information – including details of how we've already been enhancing the Loughborough Student Experience following your feedback – go to www.lboro.ac.uk/nss