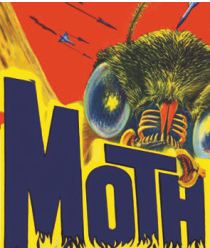 Celebrate term's end next Tuesday (17th June) with a day of events celebrating biodiversity on the Fruit Route focusing on moths and the launch of the Fruit Routes map that gives details of seasonal foraging on the fruit route and information on the newly planted tree varieties.
Events throughout the day include:
12.30pm – 1.30pm: Walk the Fruit Route with artist/project deviser Anne-Marie Culhane. Meet at the Barefoot Orchard (which is by the weather station opposit the Pilkington Library)
3pm – 6pm: Wild Teas foraged from the Fruit Route hosted by Anne-Marie Culhane and Paul Conneally (Artist/Poet). Learn how to make a sugar rope to atrract moths. Takes place at the Barefoot Orchard.
8pm: Pop-up screening of Mothra (PG), a legendary Japenese Film about a giant moth who saves the world. Screening at The Shed, behind Car Park 5.
10pm – Early hours: Moth Trapping at the Barefoot Orchard with Graham Finch. A hands-on way to find out more about these Fruit Route inhabitants. Stay as long as you like. Drinks and hot soup provided. Bring warm clothes, outdoor shoes and a torch!
Everyone is welcome, and all events are free to attend.
The vision of Fruit Routes is to plant fruit, nut trees and edible plants along footpaths and cycle paths across the university campus creating a spring snowfall of blossom and an autumnal abundance of fresh fruits and berries for harvesting, eating and distributing. This project is funded by  the University Landscape Master Plan in line with the Biodiversity Action Plan and is managed by the Sustainability Manager at Loughborough University.
For further details, visit the Fruit Routes blog here: