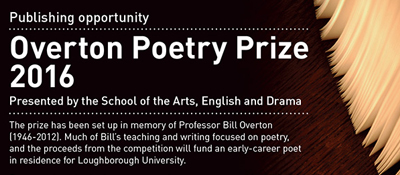 Winner of the 2015 Overton Poetry Prize, Sarah Leavesley, will have her poetry chapbook officially launched at an event on Tuesday 15th March.
Sarah's chapbook, titled Lampshades & Glass Rivers, has been published as part of an annual competition presented by the School of the Arts, English and Drama.
The launch event will include readings by the School's current poet-in-residence, Helen Calcutt, PhD Creative Writing student, Sophie Louise-Hyde, MA Creative Writing student, Naomi Riley-Dudley and, third-year English undergraduate student, Maggie Nash.
The Overton Poetry Prize invites students explore their creativity and submit a sequence of poetry of up to 300 lines on any subject. The winning sequence will be published by Lamplight Press, based at the University, with the two runners-up receiving a £50 book voucher.
The launch of Lampshades & Glass Rivers will take place between 7-8.30pm in the Stanley Evernden Studio, School of the Arts, English and Drama. Entrance is free and refreshments will be provided.
To be in with a chance of having your own work published, click here and enter the Overton Poetry Prize 2016 before entry closes on 30th April.