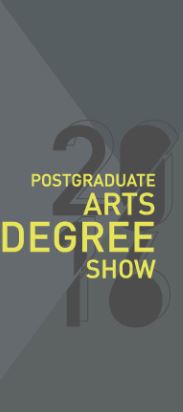 The annual Postgraduate Arts Degree Show 2016 will open with a Private View on Wednesday 21st September, 5-7pm, and will be open to the public Thursday 22nd-Saturday 24th September, 10am-5pm, in the Fine Art Building at Loughborough University.
On display will be the final degree projects of the students on two of our MA creative arts courses: 2D and 3D Visualisation (Graphic Design and Visualisation from 2016 onwards) and Art and Design (Studio Practice).
The Degree Show is an opportunity for students to showcase their skill, vision and ingenuity, all of which are enhanced by the level of sophistication that results from exploring a discipline in greater depth.
Students on both courses are encouraged to develop their own visual language, and to express this through traditional and contemporary media. At the heart of these courses is an emphasis on experimenting with materials, processes and techniques, and on refining individual skills and practice. The Degree Show is one of several opportunities for students to develop the entrepreneurial skills needed to pursue a career in the creative industries.
For further information, visit the link below:
http://www.lboro.ac.uk/departments/aed/pg-taught/postgraduate-arts-degree-show/postgraduate-arts-degree-show-2016/