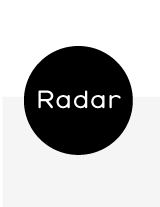 A trio of award-winning thought-provoking films are being shown over the next month by Radar, the University's contemporary arts program, as part of their spring theme, Questions of Value.
The sequence begins this evening at 6PM in the LUA Project Space with a showing of Andrei Tarkovsky's enigmatic 1979 science fiction mystery Stalker. Based upon the novel Roadside Picnic by Arkady & Boris Sturgatsky, the film is frequently described by critics as one of the best SF movies ever made.
On Wednesday 29th May the Oscar-winning 2010 documentary Inside Job will be screened in the Cope Auditorium at 6PM. Narrated by Matt Damon, the film takes a hard-hitting view of the 2008 financial crisis and the industry that caused it.
Finally on Wednesday 5th June at 6PM in the Cope Auditorium there will be a showing of King Vidor's 1949 drama The Fountainhead, starring Gary Cooper. Based on the controversial Ayn Rand novel of the same name, the film charts the struggle of an idealistic architect to maintain his artistic integrity in the face economic, professional and personal pressures.
All three films are free to attend. For further details, visit the Radar site here:
http://www.arts.lboro.ac.uk/radar/radar__whats_on/questions_of_value1/