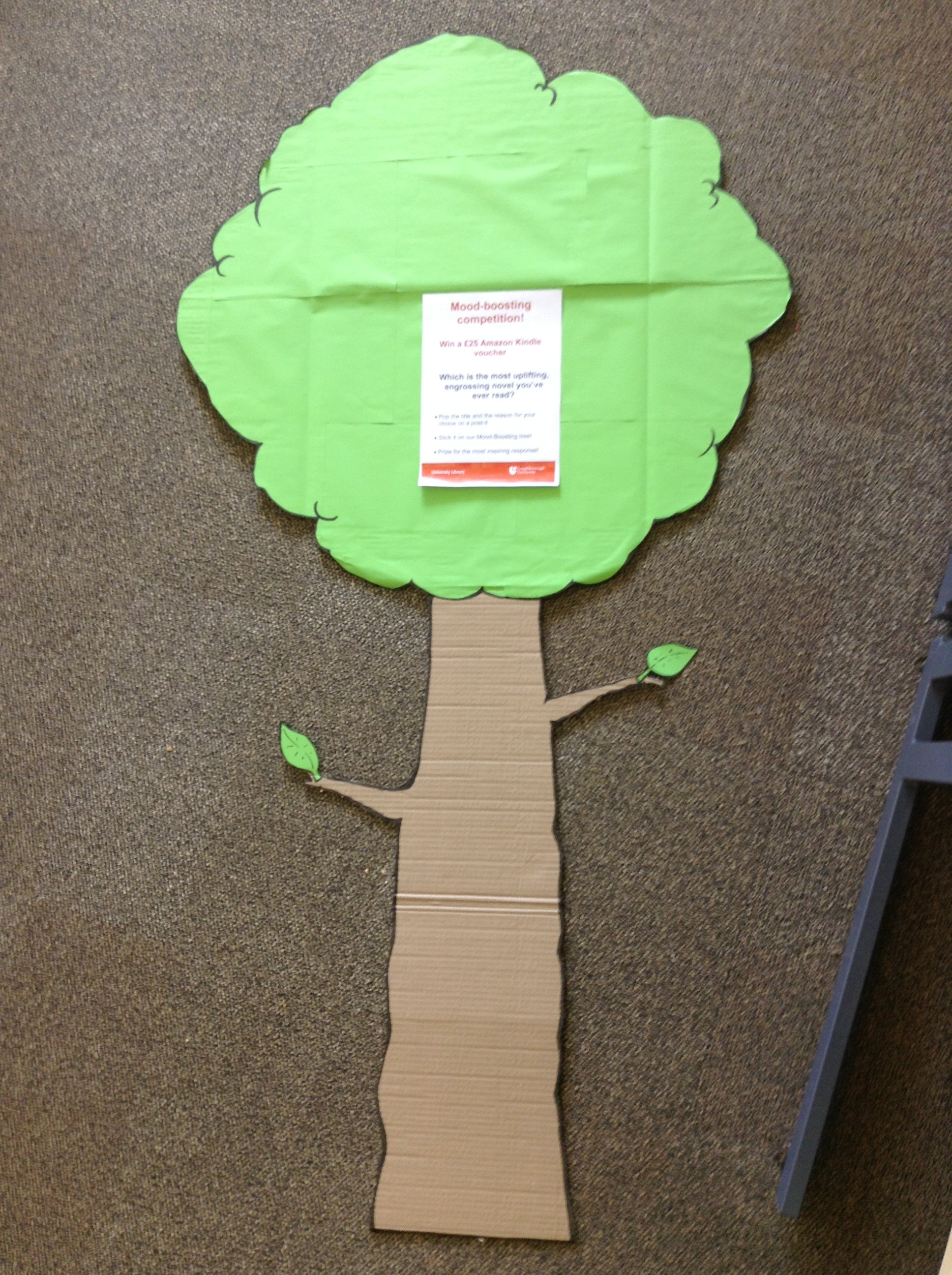 Tomorrow is University Mental Health & Wellbeing Day, and to mark the occasion there's a day of fun-filled events happening down at the Student Union Building between 12-4pm.
We'll be running a stand down there too, to promote our Leisure Reading collection and its new section of Mood-Boosting books (recognisible upstairs by their new shiny stickers!) and another section of 'Books on Prescription' (self help titles based on cognitive behavioural therapy), as well as our student book club, Club 790. To find us, just look for the tree! It's not just any old tree, though – we'll be asking you to name the book or novel that has done the most to lift your spirits or boost your mood, write down why and stick it on the tree (pictured just opposite). The most creative & inspiring response will receive a prize of a £25 Amazon Kindle voucher.
If that isn't enough to put a smile on your face, then there's bound to something else happening down at the SU that will, including a tasty Farmer's Market by the fountain, a bouncy castle, a chance to learn some circus skills, and a wide programme of uplifting talks and advice sessions, all set to the soundtrack of live acoustic music. And the Vice Chancellor himself will be signing the Time to Change pledge on behalf of the University and the Students Union at 1pm. What more could you ask for to brighten your day?
The ultimate aim of University Mental Health & Wellbeing Day is to inspire people to think about and challenge the stigma which unfortunately still surrounds mental health issues. For further information about the day, take a peek at this poster. And to find out more about our new Mood-Boosting selection, visit this site by the Reading Agency which tells you more about the scheme.