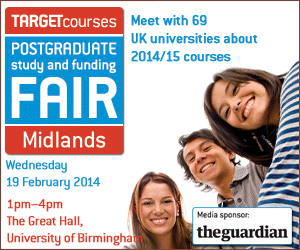 Have you been considering postgraduate study? Do you want to know all your options? Where to study? Funding advice? How to apply?
The TARGETcourses Postgraduate Study and Funding Fair Midlands may be just what you need.
On Wednesday 19 February 2014 between 1pm – 4pm the Great Hall at the University of Birmingham will open its doors to leading universities seeking to fill their 2014/15 postgraduate courses places.
Here representatives from each university will be able to give you more details on their courses, the funding available and even what it is like to relocate. You will also have a chance to attend exclusive seminars on a wide range of postgraduate study topics.
This event is open to students from all universities and there is the added perk of a FREE lunch and travel reimbursements. (Restrictions do apply so please visit the website for more information closer to the time).
To find out who is attending so far, or to register for the event, please visit: