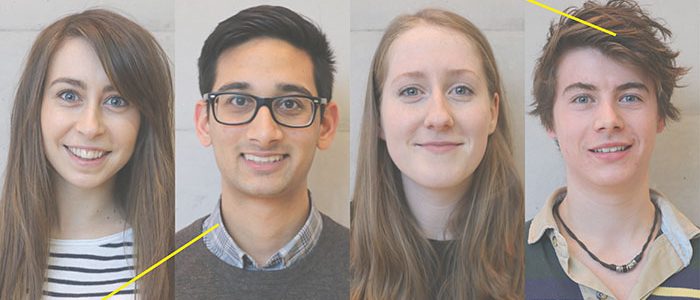 Final Year Student Q&A // 13 weeks to go
Inspired by a feature in ICON magazine, here is the first installment of the Final Year Student Q&A series. We are conducting several interviews with groups of four final year students asking them 5 questions based upon their final year projects and experiences of Loughborough Design School.
This week we will be interviewing (from left to right):
Rhian Gately, Ravi Patel, Hannah Revie and Harry McKendrick
---
Firstly, a little about their final year projects.
Rhian (Industrial Design) is working on a device to improve the experience of self-monitoring of Warfarin patients' blood thickness within the home
Ravi (Ergonomics) is looking at a systems approach into ambulance response to mass casualties.
Hannah (Industrial Design) is working on Water Polo Coaching System
Harry (Ergonomics) is looking at thermal sensitivity to a warm and cold stimulus.
---
Describe your project in 3 words
Rhian: Non-Invasive INR Monitor
Ravi: Important, Informative, Interesting
Hannah: Empowering, Evolving, Achieving
Harry: Cutting-edge, Sensitivity, Body-mapping
---
Describe yourself as a designer/ergonomist in one word
Rhian: Empathetic
Ravi: Diligent
Hannah: Curious
Harry: Determined
---
What was your childhood ambition?
Rhian: To be just like my dad; a designer for a big consumer company
Ravi: To play football for Manchester United Football Club and be a club legend
Hannah: I had a huge number of ambitions, everything from costume designer to demolition worker!
Harry: To become a forensic scientist or a wildlife documentary (David Attenborough) cameraman.
---
What have you most enjoyed about studying your course?
Rhian: Seeing the final outcomes of my projects and knowing I did it by myself with the skills I've picked up from being a student here.
Ravi: Learning about how Ergonomics (Human Factors) can be crucial to designing products, systems and environments.
Hannah: Learning how to learn and where to look.
Harry: Discovering the vast breadth and scope of the domain.
---
Where do you see yourself in five years?
Rhian: In a design job, where I am happy and successful. It won't feel like a chore if it's something you enjoy!
Ravi: Working my way up in an Ergonomics (Human Factors) department in a well-respected global organisation.
Hannah: I want to always be striving to improve. I would like to still be designing for myself as well as whoever I am working for.
Harry: Embedded into a design/human factors consultancy firm with the capacity to travel worldwide.
---
This post was brought to you by the School's Exhibitions Team.  This team is made up of volunteer final year undergraduates who are working with staff from the School to prepare the annual Degree Show and New Designers exhibitions.
All content has been written, edited and captured by this student team.
---
Loughborough Design School Degree Show
10 – 14 June 2016
10am – 4pm daily
Year 12 schools event 10 June –  contact us to book your place.
Business event 14 June 14:00 – 17:00 – contact us to book your place.