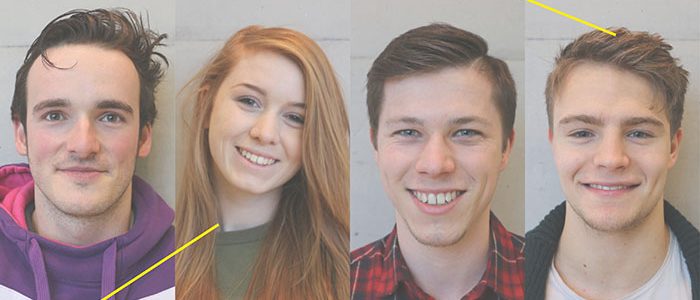 Final Year Student Q&A // 10 weeks to go
Inspired by a feature in ICON magazine, here is the second installment of the Final Year Student Q&A series. We are conducting several interviews with groups of four final year students asking them 5 questions based upon their final year projects and experiences of Loughborough Design School.
This week we will be interviewing (from left to right):
Ollie Godwin, Georgia Humphrey, Adam Wallace and Henry Pickering
---
Firstly, a little about their final year projects.
Ollie (Industrial Design) is working on a Device/ System used to monitor the welfare of sheep throughout their life, whilst also reducing the number of ewes and
lambs that die during the later stages of pregnancy and early stages of birth.
Georgia (Industrial Design) is working on a height adjustable storage system to better use the vertical space of a kitchen.
Adam (Product Design) is working on improving paramedic emergency treatment of cardiac arrest.
Henry (Ergonomics) is looking at helping the visually impaired see. Investigating the performance of 'Smart Glasses' for individuals with retinitis pigmentosa navigating under different light intensities.
---
Describe your project in 3 words
Ollie: Sheep Monitoring System
Georgia: Modern. Disruptive. Motion.
Adam: Revolutionary, Ambitious, Cutting-Edge
Henry: Augmented assistive technology.
---
Describe yourself as a designer/ergonomist in one word
Ollie: Organised
Georgia: Adaptable
Adam: Dynamic
Henry: Motivated
---
What was your childhood ambition?
Ollie: To be an inventor like the one in chitty chitty bang bang
Georgia: I have always loved drama and the West End; I wanted to perform on stage!
Adam: As many other young boys I dreamt of being a footballer; obviously that didn't happen but the concept of having a job that I love doing hasn't changed, and that's why I want to be a designer.
Henry: Working with wildlife and its conservation worldwide.
---
What have you most enjoyed about studying your course?
Ollie: The mix of different modules focusing on different areas twinned with the high level of designer capabilities of my peers.
Georgia: My favourite aspect of the course is the manufacturing, I love getting in the workshop and seeing my ideas come to life!
Adam: Whilst the course is extremely demanding, and at times stressful, it is by far the most rewarding thing I have ever done.
Henry: Gaining the knowledge of products, systems and environmental design, and its application in real world scenarios.
---
Where do you see yourself in five years?
Ollie: Living between the Cotswolds and London running my Urban Country Fashion Brand TEAL92 that I'm in the process of setting up, whilst also working on various artwork and taxidermy projects.
Georgia: I want to see the world a bit first, but hopefully I'll be settled in either a marketing or UX role. Who knows where I will be!
Adam: I have a great passion for user-centred design and improving consumer's experiences. I hope to be working as a UX designer!
Henry: Developing the user experience of augmented reality devices.
---
This post was brought to you by the School's Exhibitions Team.  This team is made up of volunteer final year undergraduates who are working with staff from the School to prepare the annual Degree Show and New Designers exhibitions.
All content has been written, edited and captured by this student team.
---
Loughborough Design School Degree Show
10 – 14 June 2016
10am – 4pm daily
Year 12 schools event 10 June –  contact us to book your place.
Business event 14 June 14:00 – 17:00 – contact us to book your place.