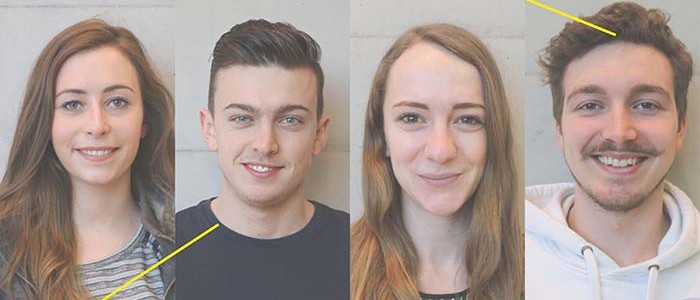 Final Year student Q&A // 8 weeks to go
Inspired by a feature in ICON magazine, here is our third installment of the Final Year Student Q&A series. We are conducting several interviews with groups of four final year students asking them 5 questions based upon their final year projects and experiences of Loughborough Design School.
This week we will be interviewing (from left to right):
Hannah Shattock, James Robertson, Hayley Maynard and Ollie Ramirez.
---
Firstly, a little about their final year projects.
Hannah (Ergonomics) is focusing her project on the effects of gardening gloves on dexterity and are those effects more prevalent in older people.
James (Product Design) is working on a device to aid teaching electronics to primary and secondary school students.
Hayley (Industrial Design) is working on an appliance, which allows the user to make charcuterie in their own home, by drying, curing and cold smoking.
Ollie (Industrial Design) is working on a highly pose-able creative task light with dynamic lighting property control.
---
Describe your project in 3 words
Hannah: Challenging, rewarding, motivating
James: Learning, Making, Enjoying
Hayley: Home Artisan Charcuterie
Ollie: Smart creative task-light
---
Describe yourself as a designer/ergonomist in one word
Hannah: Innovative.
James: Conscious
Hayley: Budding.
Ollie: Pragmatic
---
What was your childhood ambition?
Hannah: To be a ballerina!
James: Initially an astronaut and go to Mars. But the idea of being a software developer and creating something meaningful from nothing was so cool!
Hayley: I also wanted to become an astronaut!
Ollie: At one point it was to become a tiger but after that It was to do follow in my Mothers footsteps who is a Graphic Designer.
---
What have you most enjoyed about studying your course?
Hannah:  The wide range of modules and potential areas and industries that my course can take me.
James: The constant projects over a vast range of disciplines which helps develop different skills and ways of thinking, balancing those projects requires good time management skills.
Hayley: Input from companies and real life briefs, especially in final year after experiencing this for ourselves on placement.
Ollie: Being surrounded by grade-A designers and learning from one another's strengths.
---
Where do you see yourself in five years?
Hannah: Hopefully working as a successful ergonomic specialist in a well-established company.
James: A millionaire!… or I would like to be part of User Experience design consultancy working on creating cool things as well as clocking a few miles travelling!
Hayley: Hopefully in a consultancy, that is fast paced, full of characters and allows me to progress.
Ollie: Designing useful consumer products.
---
This post was brought to you by the School's Exhibitions Team.  This team is made up of volunteer final year undergraduates who are working with staff from the School to prepare the annual Degree Show and New Designers exhibitions.
All content has been written, edited and captured by this student team.
---
Loughborough Design School Degree Show
10 – 14 June 2016
10am – 4pm daily
Year 12 schools event 10 June –  contact us to book your place.
Business event 14 June 14:00 – 17:00 – contact us to book your place.