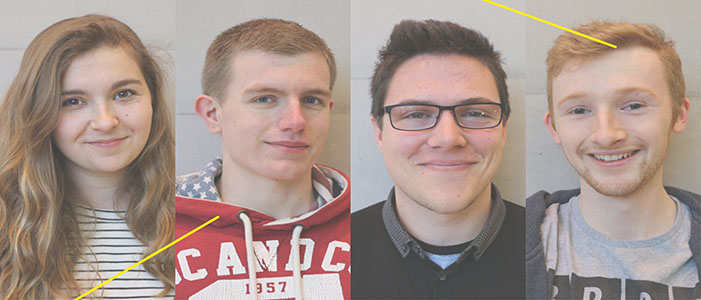 Final Year Student Q&A // 6 weeks to go
Inspired by a feature in ICON magazine, here is the fourth installment of the Final Year Student Q&A series. We are conducting several interviews with groups of four final year students asking them 5 questions based upon their final year projects and experiences of Loughborough Design School.
This week we will be interviewing (from left to right):
Zoë Browning, Liam Ward, Callum Tongue and Robbie Hoare
---
Firstly, a little about their final year projects.
Zoë (Industrial Design) is looking at remote tactile communication in palliative care.
Liam (Design Ergonomics) is looking at a device' to reduce driver distraction.
Callum (Industrial Design) is looking at assisting wheelchair users with the care of young children around the home.
Robbie (Product Design) is working on a paintbrush and roller sleeve cleaner for decorators.
---
Describe your project in 3 words
Zoë: Empathetic, Tactile, Emotive
Liam: Driver distraction reduction
Callum: Inclusive, Caring, Unique
Robbie: Technical, Unique, Ambitious
---
Describe yourself as a designer/ergonomist in one word
Zoë: Perceptive
Liam: Assiduous
Callum: Industrious
Robbie: Productive
---
What was your childhood ambition?
Zoë: I wanted to be a LEGO designer, something I actually achieved as part of an internship scheme!
Liam: As a child my ambition was to become and inventor.
Callum: I always wanted to be a car designer until I did Product design at A Level
Robbie: Artist and Illustrator
---
What have you most enjoyed about studying your course?
Zoë: Discovering the range of design fields within the industry such as User Experience Design and Universal Design.
Liam: I have enjoyed the wide range of subjects studied and the chance to implement them in my own design work.
Callum: The skills it has given me to ultimately make me a professional designer
Robbie: I have always enjoyed the varied nature of the course where everyday is different.
---
Where do you see yourself in five years?
Zoë: Designing empathetic and creative products, within a company or consultancy, that enhance the user's experience.
Liam: In five years' time I see myself as running my own company, producing innovative products which help solve everyday challenges.
Callum: In industry working towards the next stage of my profession, hopefully with the side projects and business I have being well on their ways
Robbie: Designer within a fast paced consultancy, while keeping up painting on the side.
---
This post was brought to you by the School's Exhibitions Team.  This team is made up of volunteer final year undergraduates who are working with staff from the School to prepare the annual Degree Show and New Designers exhibitions.
All content has been written, edited and captured by this student team.
---
Loughborough Design School Degree Show
10 – 14 June 2016
10am – 4pm daily
Year 12 schools event 10 June –  contact us to book your place.
Business event 14 June 14:00 – 17:00 – contact us to book your place.