Interview with the LDS Technical Instructors: Les Pickstock
The technical instructors are the unsung heroes of the Loughborough Design School. There are three main workshops housed within the Design School and today we concentrate on multi materials workshop technical instructor Les Pickstock.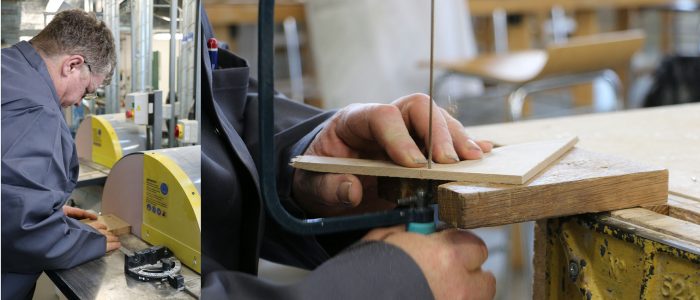 What did you do before coming to Loughborough Design School?
LP: I did a lot of jobs. I was trained as a plumber but decided I didn't like that. I did a lot of dead end jobs and then a friend of mine showed me a magazine article on college courses for professional model making. I applied for one of those and got on it, as a result of that I got this job.
How long have you been at Loughborough Design School?
LP: I joined the university on the 5th of August 1985, so 31 years this year.
What is your favourite part of the job?
LP: Well it has to be working with the students. The problem solving, trying to figure out the easiest, quickest and safest way to realise what the student wants to do.
What is your favourite memory?
LP: It's difficult to pin down one incident I remember the best. It's been a very pleasant experience and I think that sums it all up. It's always been a pleasure to
come to work.
What is your opinion on this year's finalists?
LP: Oh, completely useless! No, we always see a strong trend towards innovation and clever ideas from the students, and every year surprises me on how creative
they've become.
What are your top tips for the finalists entering the big wide world?
LP: I often say that the big trick about making the best of your opportunities is recognising your opportunities when they arrive. Don't just jump into things, consider it and remember that if you don't like what you're doing at the time – you can always change. If a job's not what you want, either don't take it, or take it and make it what you want.
---
This post was brought to you by the School's Exhibitions Team.  This team is made up of volunteer final year undergraduates who are working with staff from the School to prepare the annual Degree Show and New Designers exhibitions.
All content has been written, edited and captured by this student team.
---
Loughborough Design School Degree Show
10 – 14 June 2016
10am – 4pm daily
Year 12 schools event 10 June –  contact us to book your place.
Business event 14 June 14:00 – 17:00 – contact us to book your place.