Interview with the LDS Technical Instructors: Andrew Hallam
The technical instructors are the unsung heroes of the Loughborough Design School. There are three main workshops housed within the Design School and today we concentrate on engineer machine workshop technical instructor Andrew Hallam.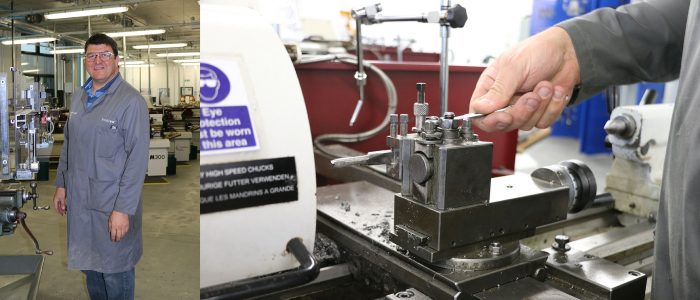 What did you do before coming to Loughborough Design School?
AH: Before coming to Loughborough, I worked for about five years for British Aerospace making bits for Eurofighter. Before that I spent nineteen years, straight from school, working at the Royal Ordinance Factory in Nottingham, making tanks and guns.
How long have you been at Loughborough Design School?
AH: I've been at Loughborough University for 12 years.
What is your favourite part of the job?
AH: Working with the students.
What is your favourite memory?
AH: That's a tough one! I'll go for the implementation of the machine workshop when we moved from the Bridgeman centre to the current design school, and getting it up and running the way I wanted it to work. As far as I know I think it's working efficiently. A memory from out of work is probably the social interaction I have with the other technical staff.
What is your opinion on this year's finalists?
AH: I think all in all, they're all pretty good! To be fair I don't think I had much interaction with the finalists as normal years. I think quite a few stayed away from this workshop!
What are your top tips for the finalists entering the big wide world?
AH: Set your aspirations high! Be mindful of all of the things you've learnt here, you'll be surprised how much of it you'll use when you don't expect to! And sell yourself, be confident! Don't underestimate what you are capable of, this course has set you up to allow yourselves to be organised, so when it comes to working you can manage your deadlines.
---
This post was brought to you by the School's Exhibitions Team.  This team is made up of volunteer final year undergraduates who are working with staff from the School to prepare the annual Degree Show and New Designers exhibitions.
All content has been written, edited and captured by this student team.
---
Loughborough Design School Degree Show
10 – 14 June 2016
10am – 4pm daily
Year 12 schools event 10 June –  contact us to book your place.
Business event 14 June 14:00 – 17:00 – contact us to book your place.