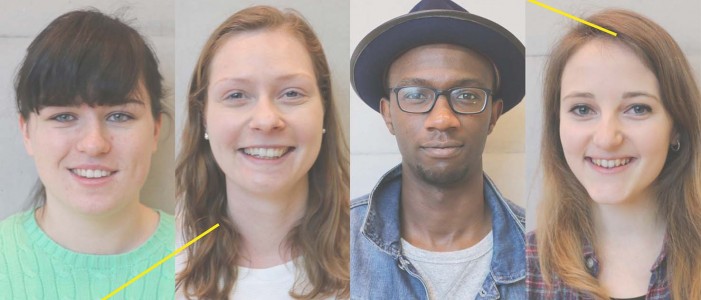 Final Year Student Q&A // 1 day to go
Inspired by a feature in ICON magazine, here is the fifth installment of the Final Year Student Q&A series. We are conducting several interviews with groups of four final year students asking them 5 questions based upon their final year projects and experiences of Loughborough Design School.
This week will be interviewing (from left to right):
Emma Flynn, Sarah Reed, Michael Obire and Hannah Lewis
---
Firstly, a little about their final year projects
Emma (Industrial Design) is working on a device which enables those living with mild to moderate dementia to independently complete activities of daily living
Sarah (Industrial Design) is working on a female personal flotation device.
Michael (Ergonomics) is looking at the psychological impact of Information technology
Hannah (Industrial Design) is working on a product to support physical and emotional connections between long distance relatives.
---
Describe your project in 3 words
Emma: Dementia, Independence, living-well
Sarah: Challenging, Exciting, Innovative
Michael: Exploring new perspectives.
Hannah: Emotive, Multi-Sensory, Magic!
---
Describe yourself as a designer/ergonomist in one word
Emma: Empathetic
Sarah: Driven
Michael: Enigmatic
Hannah: Conscientious
---
What was your childhood ambition?
Emma: To be a fire fighter or a police detective / forensic scientist. I guess I wanted to help people while getting to drive a big truck or car really fast.
Sarah: To be a helicopter pilot.
Michael: To be the next Jose Mourinho.
Hannah: Children's Illustrator
---
What have you most enjoyed about studying your course?
Emma: Having access to a huge range of facilities and software, learning about different fields of design, such as UX and also meeting some great people.
Sarah: It has challenged me to achieve more than I thought I was capable of.
Michael: Being able to develop an understanding of what factors affect human interaction within any system.
Hannah: The lifelong friends that I have made through working in an open collaborative course.
---
Where do you see yourself in five years?
Emma: Travelling, exploring and working in a new city doing something I love, improving the lives of people though the things I help create.
Sarah: Working in a nice environment with products being used by consumers that I have designed and which I am proud of.
Michael: Applying finishing touches to the design studio, which I'd be about to open.
Hannah: Working as an Industrial Designer managing projects oriented towards social innovation, helping people, or at least making them smile…
---
This post was brought to you by the School's Exhibitions Team.  This team is made up of volunteer final year undergraduates who are working with staff from the School to prepare the annual Degree Show and New Designers exhibitions.
All content has been written, edited and captured by this student team.
---
Loughborough Design School Degree Show
10 – 14 June 2016
10am – 4pm daily
Year 12 schools event 10 June –  contact us to book your place.
Business event 14 June 14:00 – 17:00 – contact us to book your place.