"Why My Passion for Creating Products that Matter Led to Working for Kinneir Dufort", Design School Alumna on her new role
A few short months ago I had my interview at KD. I arrived an hour and a half early and was feeling the pressure. The anticipation of securing my first graduate job, and a job I was actually excited about the prospect of doing every day, wasn't doing anything for my nerves.
Since then, it's safe to say it's been something of a whirlwind from the very start. The day after my interview I was offered the job which I swiftly and excitedly accepted. A few days later I was viewing flats in Bristol and three weeks after that I ventured down to Host Street for my first day as KD's newest Design Researcher. Fast-forward four months and I've already been on two full day training courses, flown to Chicago, travelled to four cities in the UK, presented to a room full of clients and will soon be heading off to spend an exciting week and a half in Germany (working, of course).
As a Design Researcher my role is to support the strategic design and development of products, services, and programs with a focus on human needs. By uncovering these needs and satisfying them we are most likely to create products and services that are successful but also ones that we, as humans (not just consumers), both want and need.
With only a small team at the moment, I'm also in the unique position of floating between the Research, Human Factors and Innovation teams, moving where the projects take me. It's a great opportunity to delve into multiple worlds and see the organisation from different perspectives. Not only that, it provides opportunity to learn, grow and develop skills in different sectors; something that is invaluable at this beginning stage of my career.
This integration between different teams is central to the KD culture with the nine different disciplines working together to deliver multi-faceted projects. In the short time I've been here, I've worked for some of our biggest medical clients and learnt far more about topics I'd never expected to. With some experience working in a design consultancy during my placement year, my time at KD has opened my eyes to very different types and styles of project. The world of medical products in particular has been fascinating to learn more about. It's not something I'd expected to encounter in my day to day life but now find I know far more about topics I'd never expected to (or possibly hoped not to need to!).
With a background in Industrial Design, making the transition to design research was a choice I considered carefully. Ultimately, it came down to my passion about creating products that really matter and can make a difference. In the design world we have the opportunity to make things easier or better to use, and can affect people's lives positively if we use our skills wisely. To me, it's always been so important to really understand what people need from a product not just what we think they need. From my experience, it's this part of the design process that might get a little overlooked or sometimes overshadowed and it's an area I feel I fit into well.
With opportunities abound there's rarely a dull moment here and KD's culture echoes that with a friendly and approachable team. Plus it's certainly not all work and no play with one of my greatest surprises here being the amount of cake at our daily tea breaks!
By Hannah Sage, Design Researcher
You can view Hannah's profile on the Design School Website
Hannah's FYDP was Milo, a product which provides video contact between soldiers on active duty and their young families back home.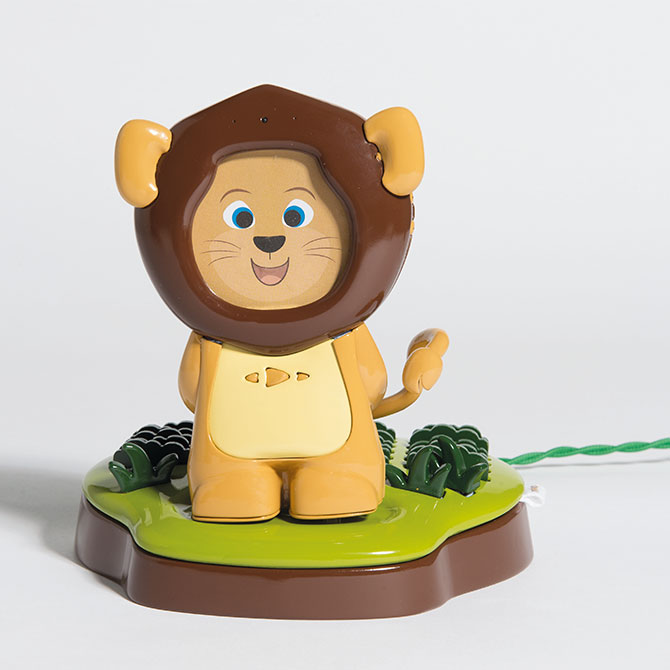 We would like to graciously thank Kinneir Dufort for sharing this piece with us, you can read the original article here.
Book onto one of our open days to visit the Design School.
Find out more about the courses we offer.
Follow us on Twitter, Instagram, and YouTube to see what life is like at Loughborough Design School.