The current pandemic has had an impact across the University community, not least doctoral researchers, and the Doctoral College has been proactive in taking steps to support the wellbeing and ease financial and other concerns of many of our doctoral researchers. We recognise that no two doctoral programmes are the same, and no two postgraduate research students are the same, and so the impacts on individuals are inevitably varied in nature.
At the start of last month, we undertook a survey to better understand the impact of Covid-19 on our doctoral researcher community. We had a fantastic level of response – 668 individual responses, which represents approximately half of the University's actively enrolled doctoral students, from all nine academic Schools. Thank you to those who took the time to respond, we have used the results in Committee discussions, and to inform policy and practice, some of which are summarised in this blog. The raw results have been carefully anonymised and shared with each School. This blog focuses on the important areas of Wellbeing, Finances, Supervision, and Workspace and Disruption.
Wellbeing
You were asked to rate your physical health, mental health and work-life balance on a five-point scale from very good to very poor (see figure 1).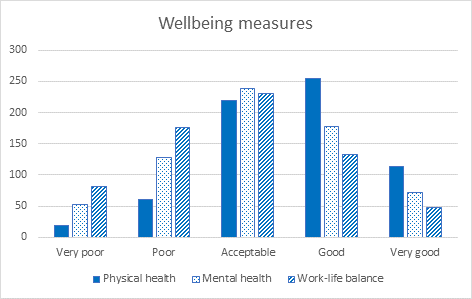 Generally, respondents rated their physical health as being better than their mental health. This corresponds with anecdotal evidence from across the UK that lockdown affected people's mental wellbeing more than their physical health. It is also clear that when working from home it is difficult to maintain work-life balance (which can already be a struggle in an academic environment). While we do not have comparable pre-Covid data on this, we do intend to assess wellbeing in this way in any future surveys.
We consider the wellbeing of our doctoral researchers to be of utmost importance and have taken steps to address this. In April, the University engaged a new provider for its Employee Assistance Programme (EAP), which is an external resource and helpline for a wide range of wellbeing issues including mental health support and financial advice. The Doctoral College funded provision of the EAP for doctoral researchers, and you are able to access the resources and advice here. This service complements that provided by Student Services which is also fully accessible to all postgraduate research students.
There is a wide array of online resources available for wellbeing support; we asked which ones you had heard of and used. The most commonly used were the wellbeing section of our Remote Learning site (used by 15% of respondents) and the University's Wellbeing App (7%). Other resources can be found on the new Wellbeing section of our website. These resources are available for you, do use them.
For a more 'personal touch' we have also provided the opportunity to talk with a member of the Doctoral College team in July, and Katryna and Duncan hold regular training and development online appointments, bookable through the Development Portal.
Finances
Of all respondents, 177 (26.6%) reported that they were facing some level of financial hardship. The most common reasons were loss or reduction of part-time work at the University or outside the University, a reduction in income for somebody providing financial support, and studentships coming to an end. Uncertainty about future income had also pushed some to make adjustments to their finances so that they have some money in reserve in case it is needed. The University's hardship fund has given funding to 19 out of the 22 doctoral researchers who have applied, paying out a total of £25,998 to support them. You can find further information on the University's Hardship Fund pages.
We are hugely sympathetic to the financial difficulties many of our students are facing. Like all Universities, though, we are operating in very challenging financial times with very uncertain income streams. For this reason, the provision of studentship extensions has been very carefully considered. The Doctoral College surveyed doctoral researchers in receipt of a studentship that was due to end between 1 March 2020 – 31 March 2021. Of those, 109 (56%) requested an extension to their studentship and 98 of those applications were awarded an extension (90% of applicants). If you are due to submit after this time period, you should work with your supervisors to modify your research plan so that you are able to meet your submission deadline with a thesis of an acceptable standard, which might be quite different from your original research vision. The survey indicated that 62% of you had already reviewed or revised your research plans in light of the disruption caused by the pandemic; it is clear that some level of disruption will continue for the foreseeable future, so we urge you all to check and revise your plan for thesis completion on a regular basis. Consideration will be given to whether further stipend extensions may be possible, although it is expected these will only be awarded in exceptional circumstances.
Supervision
Ninety-five percent of respondents reported meeting with their supervisors at least once a month, with most meeting more frequently than this. Encouragingly, only a small proportion felt that the level of supervision that they were receiving was inadequate, and this data has been fed back to Schools. The Doctoral College Office also undertook an audit of Co-tutor records to look for any signs of researchers in need of further support. If you still feel concerned about your supervision you should get in touch with a member of the Doctoral Programme team in your School in the first instance, book an appointment through the Development Portal or make contact with the Doctoral College directly.
Workspace and Disruption
The survey indicated that around 34% of doctoral researchers did not have access to a full-time work space. A third of you stated that you would be likely to use a bookable University study space complying with social distancing guidelines. Since the survey, first James France and now the Library have been open for study on the Loughborough Campus. Graduate House is not yet open due to spatial constraints. A quarter of you (26%) reported that you had significant caring responsibilities that disrupted your work schedule, and 47% reported that they were unable to work without significant disruptions. If you feel your studies have been significantly disrupted, this can be taken into account via the mitigating circumstances process at your annual progression review.
As always, the Doctoral College values the many contributions you make, not only in terms of research but more broadly to the University community and beyond. If you have any queries about the survey or our response please get in touch with us directly via the email address doctoralcollege@lboro.ac.uk. Thank you for sharing your experiences with us, and we look forward to continuing the ongoing dialogue with you.