My Action highlights (only a few!)
Each year Student Volunteer Week celebrates the efforts students make volunteering. This year it falls on the 19-25 February. So in honour of #SVW2018, we asked Loughborough Student's Union's Executive Officer for Action, Anna Milewska, to share some of her favourite moments from her two years in the role.
It is almost impossible to outline my favourite moments of Action since being E.O. – because there so many! So here are some 'big' highlights from my two years…
Action Awards
The Action Awards is one of the most unique nights of the year, where we as a section celebrate the hard work and commitment of our volunteers throughout the year. The most beautiful thing is that even though we have a room of 180 people who don't necessarily know each other, everyone celebrates everyone's success. Is it the most magical night of the year, and the highlight of our incredible efforts to make a difference.
Action Food Drive
The Action Food Drive happens twice a year, during Christmas and Easter. We collect as many items of non perishable food and clothing as possible for those in need. It is one of the most exciting days of my year, as Anne and I drive from hall to hall collecting hundreds of bin bags full of tins and pasta! It is a true testament to the hard work our Action Reps put into this friendly competition.
Over my time, Action has donated over 55,000 items through the food drive to support local organisations. We recently introduced Bring a Tin to Get in where students can bring a tin of food to get free entry to the Union – seeing hundreds of students queuing up with tins has to be one of the highlights of my years.
Spit Happens & Heart 2 Heart
Two life-saving events! Spit Happens signed up 2,056 eligible donors to the Anthony Nolan register on 15 March 2017, and Heart 2 Heart trained 1,479 people in CPR on Valentine's Day this year.
An amazing purpose – and watching my Action team help lead on a huge chunk of it was such a rewarding feeling! For example, my hall reps organised their volunteers, time slots and absolutely smashed both events! Over 400 Action volunteers supported Spit Happens, and 300 helped at Heart 2 Heart… I'm so proud and honoured to work with them!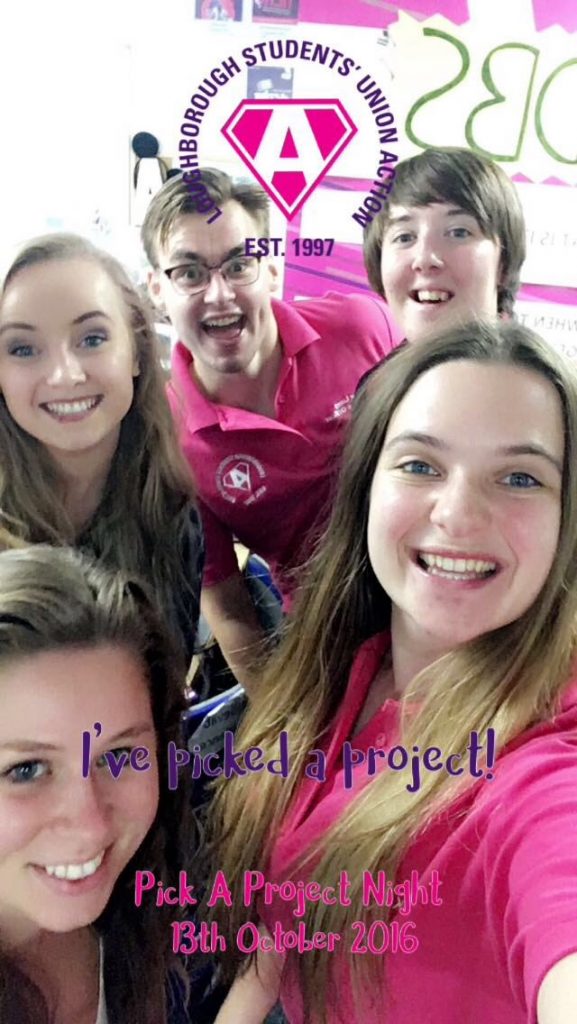 Freshers' Week!
Busy is an understatement, however, through doing so many projects we were able to really engage our newest students in the section! I loved it, no one had ever heard of Action but when they realised what we're about everyone absolutely loved it!
Pick a project night is always a special night, when the whole section pulls together to show off all the fantastic opportunities we have on offer! I love it because I can see just how passionate all my project leaders are about their projects and it's truly infectious!
Action's 20th Anniversary
It was a night to remember! Dedicated to the amazing 20 years that this section has existed, we invited old Alumni back to campus and got in touch with the first ever Action Chair! Old Action Chairs shared speeches which were truly touching, and hearing more about the impact made by students throughout the years made me so excited for the years to come!
Winning Action vs RAG, Turner-Cato Cup
This one is my personal favourite (that has nothing to do with volunteering)! As we all know Action and RAG have always been competitive – but we also compete in an annual football match to win the Turner-Cato Cup (named after the administrators of each section).
In 2017, for the first time in five years Action finally won! Even better – this year, we yet again proved to be the better team and won 7-5! I am very happy that in my two years we have won the football! It's all friendly competition though…
I promise I'll stop talking now…
These are very broad highlights, and I want to stress that Action does not only give to communities, but to our students. Volunteering gives you a common goal and you suddenly becomes best friends with strangers who – just like you – love volunteering!
It is a unique and wonderful to experience to lead a section like Action. Our volunteers do what they love, and their passion is so contagious. What people don't see is the impact we make on each other within the section; we are here for each other through hard times and to celebrate each others' successes.
For me, the highlights are not only the great big events, but the small successes that each individual makes throughout their journey within this section. Seeing students grow in confidence, giving them a chance to try something new, a sense of belonging and pride is what Action is all about.
I am so thankful for everything I have experienced, and what the students of Loughborough have helped me to experience. Their kindness, hard work, passion and love for the section and helping others never fails to amaze me. I have never felt prouder than I have whilst being the Action E.O.
---
Want to get involved in Student Volunteer Week?
You can keep up with Action's activities by following Anna on Twitter: @ActionEO_LSU.
Loughborough Life
The Loughborough Life blog features all the latest events from across our campuses. Find out what's happening near you and get involved.