Loughborough's social media highlights of 2018
January
As part of our New Year health and wellbeing campaign, we asked our academics and researchers to share their advice about a range of issues, including willpower, training, New Years Resolutions and more.
https://www.facebook.com/lborouniversity/videos/1610898848979763/
February
#Heart2Heart was a great success on Valentine's Day – we trained over 1,200 people to perform CPR in just 12 hours.
Also on Valentine's Day (are you detecting a theme here?) we searched high and low for stories of love, friendship and family from our alumni community with our Love at Loughborough campaign.
March
Loughborough took to the world stage once again, ranked best in the world for sports-related subjects.
April
The good news continued into April, with Loughborough being crowned University of the Year by Whatuni.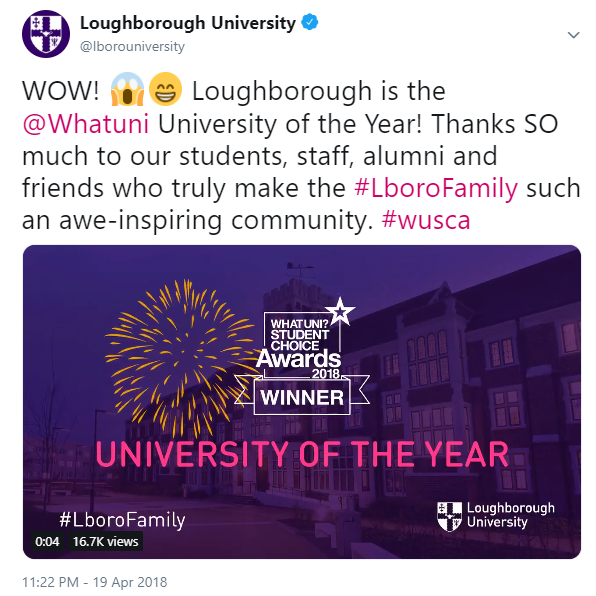 We were inspired by 9 current students being listed as 100 Top Women to watch in 2018.
Our athletes did us proud on the Gold Coast, making Loughborough 10th in the medal table if we were a country at the Commonwealth Games.
https://www.facebook.com/lborouniversity/videos/1717274385008875
May
We are Loughborough, super Loughborough – we climbed to our highest ever ranking in the Guardian University Guide back in May.
We were also treated to perhaps the greatest ever dissertation hand-in photo courtesy of Jasper Cook.
We're still pretty sure Loughborough may be the world's best town, rather than just Leicestershire's.
June
We were finally able to reveal the name of our brand new hall of residence, Claudia Parsons Hall, our first hall named after a woman.
We'd known about the campus muntjac for a while, but student ** finally spotted the little creature frolicking next to the library.
Loughborough University Muntjac Deer

We've known about the elusive campus muntjac deer for a while, but it's never been captured on video…until now. This great footage by liu__dingding on Instagram shows our small friend leaping into the safety of the shrubbery! Our campus is home to hundreds of different species, so if you do spot our resident muntjac, please do leave them to it. Find out more about our biodiverse campus: bit.ly/1Qro3V7

Posted by Loughborough University on Monday, 11 June 2018
July
The incredible RAF Red Arrows treated us to a breathtaking graduation flyover, thanks to two alumni on the squad, Jon Bond and Si Taylor.
Breathtaking!Here's the moment the amazing RAF Red Arrows performed a flypast of our campus to honour our class of 2018.Two of the squad are alumni, and you can read more about them here: http://bit.ly/2JuclayLoughborough University Alumni Association

Posted by Loughborough University on Friday, 20 July 2018
With the country gripped by World Cup fever, we shared the news that we're responsible for testing the official balls for the tournament.
August
We welcomed the newest 3,500 members of the #LboroFamily with personalised, wearable guides to campus.
Every year around graduation time, we produce a new video celebrating the achievements of our University from the past academic year. Check out the 2017/18 version below.
https://www.facebook.com/lborouniversity/videos/1850816471654665
September
The accolades just kept coming this year! We're the only university to ever be named The Times and The Sunday Times University of the Year twice!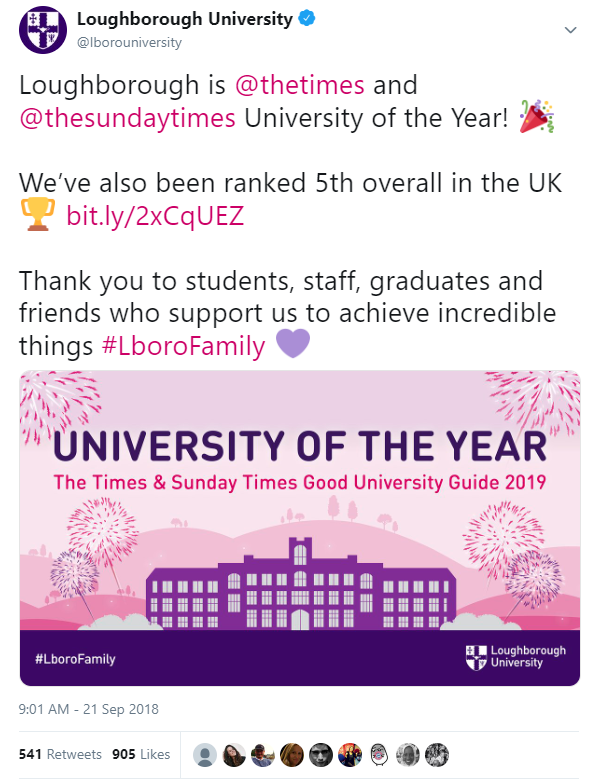 September also saw a royal visit from the Duke and Duchess of Sussex!
October
Loughborough graduate Rahul charmed the nation on the Great British Bake-Off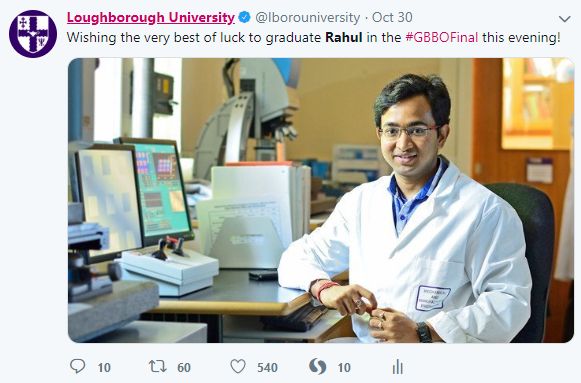 Topping off a year of success for Loughborough, The Times Higher Education ranked us 5th in the 'Table of Tables 2019'!
https://www.facebook.com/lborouniversity/photos/a.271479486255046/1973981182671526/?type=3&theater
November
Loughborough graduate Ross Edgley spent most of his 2018 swimming around the entirety of Great British – we joined him on Margate beach to welcome him home.
He's done it! After over 157 days swimming around Great Britain and breaking multiple world records, alumni @RossEdgley completes the #GreatBritishSwim #LboroFamily pic.twitter.com/wudrcRAtnG

— Loughborough University (@lborouniversity) November 4, 2018
A fantastic new facility opened on the Loughborough campus in November, our Elite Athlete Centre and Hotel was opened by Chancellor Lord Seb Coe. The hotel provides rooms which can be set 'at altitude' for high altitude training, the first of it's kind in the UK.
December
We rounded out our 2018 with the final Graduation ceremonies of the year, where we recognised four Loughborough graduates and GB Hockey players with honorary doctorates
For more moments like this, be sure to follow the University on social media in 2019:
Loughborough Life
The Loughborough Life blog features all the latest events from across our campuses. Find out what's happening near you and get involved.