Social media highlights 2019
January
We shared a video of Sir Mo Farah's visit to our brand new Elite Athlete Centre and Hotel. Needless to say, he was a fan of our Sport offering!
The #LboroFamily pitched in on Instagram, sharing their pets & advice to get you through a tough season of exams.
We also welcomed Game of Thrones star Maisie Williams to campus, who held a live Q&A at the LSU.
February
In February we celebrated #LGBTHistoryMonth with a wide range of events, and a photography exhibition.
Alumnus Ed Williams and his business partner Jamie Lang visited campus to talk about their business, Candy Kittens.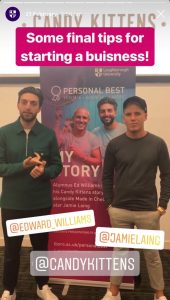 Plus, we were named best in the world for sport-related subjects again. Obvs.
March
The entire campus got stuck into 'Lumps and Bumps', which over 24 hours trained 1,100 people to check themselves for signs of breast & testicular cancer.
We also featured over 60 women's stories and experiences from across the #LboroFamily for #IWD2019.
April
WhatUni confirmed what everyone already knew by crowning our halls best in the UK.
We unearthed some University history while Powerbase got a facelift. How many matches were played on that floor?!
May
The newly finished Powerbase refurb went down well!
Our researchers traveled to Finland, to test a huge EU-funded project aiming to prepare emergency services for the future of incidents.
We never figured out what was behind the magic door to the Magic Room.
June
We dug up the most amazing video of Loughborough from nearly 30 years ago. It's 17 minutes long!
Adam Peaty kindly supported our #LboroOpenDay!
Our new Hall, Claudia Parsons, officially opened! Students have now been living there since September.
We also held our spot at fourth in the Guardian League Table 2020, just one spot behind Oxford.
We don't mean to linger in June, but we also welcomed student Sam Rogers who gave us a test flight of the jetsuit he has been working on!
July
July always sees our finalists return to campus for graduation day. This year we shared the stories of some of our inspiring #LboroFamily members, including Tom Holden. Words don't do it justice, so re-watch his story:
We also used the opportunity of having our Chancellor Lord Seb Coe on campus to celebrate our recent 40th BUCS win.
August
The golden ticket returned! We had a lot of fun saying hello to the newest members of the #LboroFamily
September
The accolades just kept coming! We maintained our top 5 position in the Times and Sunday Times Good University Guide 2020.
We officially welcomed our brand new cohort of Freshers to the #LboroFamily over three move-in days
October
October got underway with Black History Month – we ran, hosted and supported a series of events marking the awareness month.
Sorry to keep banging on about league tables, but they're too good not to share! We took 5th again in the Times Higher Education 'Table of Tables'.
We also joined Stonewall as a Diversity Champion!
November
A group of alumni from the Royal Navy returned to Loughborough to speak to students. We got some cracking aerial footage of our campus from above.
Loughborough scooped a hat trick of awards from 'THE Awards' – the Higher Education 'Oscars'.
With the General Election on the horizon, our academics look at the media reporting of the campaign – this tweet alone reached over 150,000 people.
December
We got involved with Stonewall's #RainbowLaces campaign, with a Loughborough twist. #LboroLaces took off across campus with students and staff getting involved and buying over 1,300 pairs of laces.
Our winter graduation ceremonies took place, which included the last graduation ceremony of the decade.
Loughborough London also celebrated #LboroGrad2019 at their fourth ever graduation ceremony, with one of the most powerful figures in British sport receiving an honorary degree.
Loughborough Life
The Loughborough Life blog features all the latest events from across our campuses. Find out what's happening near you and get involved.