This Week at Loughborough | 26 October
Black History Month
Are p-values racist?
26 October, 10 – 11.30am, Online
Join for an exploration of the history of statistics and its close ties to colonialism, eugenics and white supremacy. In this session the origins of statistical methods will be discussed and their legacy in terms of current controversies such as racial bias in social media algorithms.
Find out more information and how to book on the event page.
Empire of Memories: Decolonisation and public opinion in twentieth-century Britain
26 October, 6 – 6.45pm, Online
This talk seeks to discover what the end of empire meant to ordinary people in post-war Britain through investigating half a century of social surveys and opinion polls.
These polls and surveys enable us to assess:
Public awareness of decolonisation
Attitudes to major events including the Suez Crisis, the Cyprus Emergency, the Rhodesian Unilateral Declaration of Independence and the Falklands War
Variation in public support for decolonisation over time and between different social groups
The legacy of post-imperialism at the turn of the millennium
How attitudes to decolonisation related to those towards BAME migration and race relations in Britain
Find out more information about this event.
Black Business Showcase: Local and student businesses in Loughborough with LEN
27 October, TBC, Online
LSU's Ethnic Minorities Network and the Loughborough Enterprise Network are delighted to announce the upcoming release of a video compilation showcasing Black businesses in Loughborough. This will include local businesses as well as student and past student-led businesses.
This video will include details of each business, as well as show owners showcasing their products and describing their work in more detail.
Booking information is available on the event page.
'Black History is My History is Your History': Carol Leeming MBE FRSA
28 October, 11.30 – 12.30pm, Online
This is a short talk on Black History in the USA and its importance currently in the wake of #BlackLivesMatter, as well as its role in re-shaping British History.
It will cover:
How Black History Month has been celebrated in the UK since the 1980s
How it features in schools and higher education
The increased interest in books and TV programmes that cover Black History
The establishment of a national Black Cultural Archives Centre in London
Black History in Loughborough and Leicestershire as a whole
More information on this event and how to book is available on the event page.
African-Caribbean Society's Black Creatives Event
28 October, 6 – 7.30pm, Online
The Afro-Caribbean Society is arranging an event aimed at discussing creative careers and professions with students in their society and beyond. The panel will discuss getting started in the creative industry, their education and share top tips.

The panellists confirmed so far are:
Ashlea Smith and Raina Omar: Alumnae and Co-Hosts of Melanin and Me podcast
ItsJohnny: Afro Dancer
Henrie Kwushue: Presenter and DJ
Booking information for this panel can be found on the event page.
Café Academique
29 October, 12.30 – 2pm, Online
As part of Café Academique a series of events for Doctoral Researchers to share and discuss their research, three fantastic doctoral researchers that have put themselves forward to take the 'stage':
Chidinma Okorie – 'Connecting the dots: Aren't we all migrants?' – Social Sciences and Humanities
Jedi Tetteh – 'The relationship between income-generating activities of women, dietary behaviours and feeding practices of infants and young children in urban Ghana' – School of Sport, Exercise and Health Sciences.
Naomi Howard – School of Science
How to book and more information on how to get involved in future Café Academique events can be found on the event page.
Energy Research Accelerator Webinar Series: Katherine Johnson
29 October, 2 – 2.30pm, Online
In the last of ERA's Black History Month series, PhD students from the Energy Research Accelerator discuss the importance of Katherine Johnson's role in science.
Katherine Johnson – worked as a 'human computer' for several high profile NASA projects. Her work helped put spacecrafts into orbit, send US astronauts to the moon and (probably to their great relief) bring them back home again.
Find out how to book onto the event on the event page.
Black History Month Walk
30 October, 10am, Rutland and Hazlerigg Fountain
A reflective walk across campus for staff and students to discuss their feelings and experiences of Black History Month, which will be launched at the Rutland-Hazlerigg fountain by the Vice-Chancellor. A visualisation exercise hosted on Microsoft teams will be shared to explore our hopes about what a post-racism world would look like.
Booking information is available on the event page.
Multiplex Construction Europe Live Q&A Session – Ask the Graduate
26 October, 10 – 11am, Online
Are you an engineering finalist? Join this online Q&A with former Loughborough students about what it's like to work at Multiplex, transitioning from university to full time work, tips for applications process, and anything else you'd like to know.
Register you interest for the Q&A on the careers network page.
Farrans Live Q&A Session – Careers at Farrans Construction
26 October, 1 – 2pm, Online
If you're a student in the School of Architecture, Building and Civil Engineering then Farrans want to talk to you! Offering Placements and Graduate roles, their staff will be on hand to answer your questions about their opportunities to work on exciting projects throughout the UK & Ireland.
Farrans Construction is a leading figure within the UK construction market, operating across both civil engineering and building divisions. Farrans bring a wealth of construction expertise to a wide range of sectors, including transportation, marine, water & wastewater, renewables, healthcare, education and private development.
Book to attend on the event page.
Happy Mondays: Night Photography Walk
As the clocks go back, why not make the most of the dark nights by learning how to take cool photos at night?
In the first half of the session you will learn about long-exposures and other photographic techniques that you can use to create amazing images at dusk. In the second half of the session you will put these into practice as we go for a night-time photo walk around campus.
Booking information is available on the event page.
Mock Assessment Centre
27 October, 6 – 7.45pm, Online
Delivered by the Careers Network and staff from a range of top companies, you'll hear first-hand what to expect and learn how to prepare effectively. Join online and gain as much practise as you can before your first real assessment centre.
Practise group exercises element of an assessment centre with the Careers Network and real recruiters
Hear some top tips
Gain feedback from employers
This workshop is for students from all years in all Departments. Limited spaces available, book on Careers Online.
Keyence UK Live Q&A Session
28 October, 2 – 3pm, Online
Listed on Forbes "Top 100 Most Innovative Companies", KEYENCE is a world leader in Sensors, Vision, Measurement and Microscopes and turns over more than $5 billion global sales per year.
Meet the Recruitment team and learn more about their company and opportunities! You can just drop in anytime between 2 and 3 for a chat, or to ask a quick question. They are really excited to speak to you.
To sign up for this event.
Goal Setting and Planning
29 October, Afternoon, Online
As part of Loughborough Enterprise Network's workshops series, LEN takes you through how to effectively plan and set goals to succeed in business.
Go to the event page for booking information.
N Brown Live Q&A Session
29 October, 1 – 2pm, Online
Pop in and chat to the friendly staff from N Brown; a top 10 UK clothing, footwear and homeware digital retailer. Their five distinct brands are JD Williams, Simplybe, Jacamo, Ambrose Wilson and Home Essentials.
They are inviting you to answer any questions about their incredible placement opportunities across their Product department. You'll learn about their wonderful history, culture and get the inside scoop on what a day in the life of being a Product colleague at N Brown is like. It's a great opportunity for them to get to know you and for you to ask anything and everything about what the world of digital retail has to offer!
To book on this event, click here.
Let's Talk 'Dirty'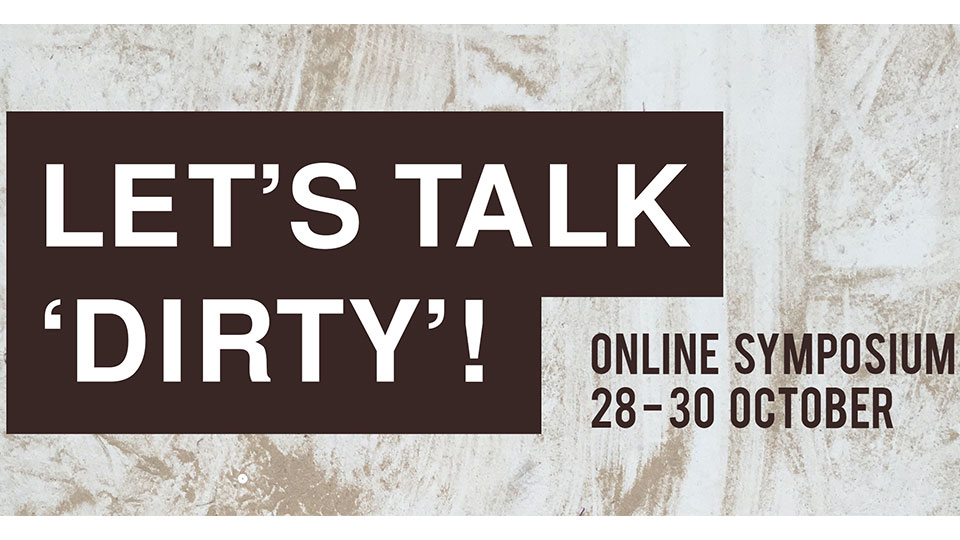 28 – 30 October, Online
The event brings together a wide range of researchers, practice-researchers and artists, including some of Loughborough's own staff and postgraduate researchers, united in their study of 'dirty' matters.
Spread across three days, there are four panels relating to the following themes:
Gender and Sexual Politics
Place and the Institution
Geographies and Ecologies
Materialities
Find out more about the speakers and how to book on the event page.
Drawing Together
Drawing Together is an exhibition of drawings created between 1970 and 2020 by some of the most influential and important artists working today. This includes two winners of the Turner Prize, Richard Deacon (1987) and Elizabeth Price (2012), each of whom has created a work specifically for this show. Drawing Together also features two impressive drawings by Michael Landy RA, one of the Young British Artists, and Eileen Cooper, the first female Keeper of the Royal Academy Schools.
Opening times and booking information is available on the event page.
Virtual Open Day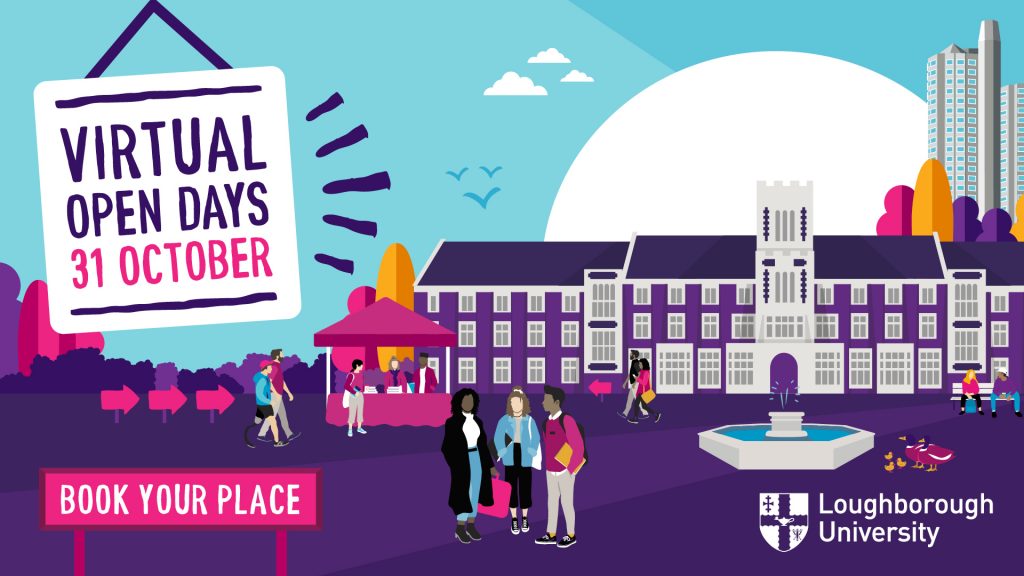 31 October, All day, Online
Our virtual open days give prospective students the perfect chance to find out more about our campus, our courses, and the student experience we are famed for. These new events will be open to all subject areas, so everyone is welcome!
Find out what is on offer and book your place!
Got something for next week's 'This Week at Loughborough' email digital@lboro.ac.uk
Loughborough Life
The Loughborough Life blog features all the latest events from across our campuses. Find out what's happening near you and get involved.