Aayush Verma, MSc Digital Marketing
I joined Loughborough University London in October from India. Before starting university, I was lost on where to start with packing. Especially as an international student from outside the UK. I have put together a short post on what to include with some of my tips on what to bring, to make the process as smooth as possible.
You could be asked to present various documents during your first few weeks of university and it is crucial that you look after them. Make paper and digital copies of everything and keep them safe.
Driver's license
Passport
Passport photos
Birth certificate
Travel card (If you have a railcard or something similar, bring it)
Student Finance documents
Insurance documents
University acceptance letter
Student bank details
Prescription copies (You'll also need your NHS number to register to a doctors)
National Insurance Number (If you want to apply for part time jobs)
Copies of your CV (again, if you're applying for jobs)
Your accommodation will be your retreat and it's best to make it as comfortable as possible. Don't cut corners when furnishing your room as this will become your safe space during busy work weeks.
Duvet
Pillows
Mattress protector
Duvet cover
Pillowcase
Bedsheets
Coat hangers
Desk lamp
Laundry basket
Dressing gown
Medicine (If you take any medication, ensure you bring it with you & keep it in a safe space)
Plug adapters (If you're an international student)
You don't have to purchase this ahead of arrival, you can buy items for your accommodation when you arrive in the UK. The following places might be useful:
IKEA: There is a store just 30 minutes away that you can visit as well as a widely available delivery service.
Amazon: anything and everything available to order to your room or Amazon locker.
Want your room complete before you arrive? Uni Kit Out has a selection of options available to you before you arrive in the UK.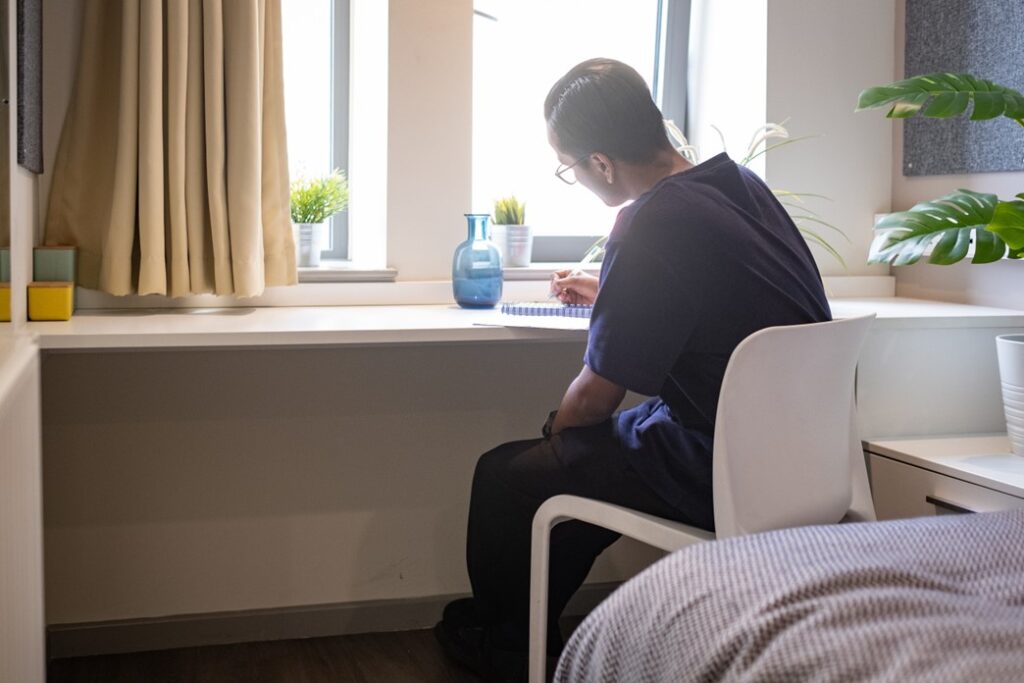 Of course, we can't forget the practical items needed for classes! This list will help you get ready for your master's and the workload that follows.
Laptop
Laptop bag
Pens and pencils
Notebook
Diary
Stapler
Files
Blue/White tack
Course textbooks
Water bottle
Some other items worth mentioning:
Kitchen items
Toiletries
Clothing items (Warm clothes)
Snacks
Bedroom items e.g. Sheets, pillows, towels.
Packing is very subjective, an essential item to one person could just be an extra for another. Keep this in mind when using the above list. Regardless, I hope I have managed to help you ahead of your trip to the UK. I can't wait to see you all in January 2023!
Loughborough University London
Blogging everything that's happening at Loughborough University London