The Community Action Heroes project
The Institute for Design Innovation is leading the Community Action Heroes project which aims to empower young people to imagine and create desirable futures for themselves and their community as they progress into adulthood.
---
About the Climate Action Heroes
The Climate Action Heroes project links climate action with economic regeneration. It aims to empower young people to imagine and create desirable futures for themselves and their community as they progress into adulthood. Young people across the globe are taking leadership in climate action, as evidenced by Greta Thunberg and Extinction Rebellion, their voices are raising unprecedented engagement. However, beyond protests and strikes, provision for young people (particularly within the most deprived societal sectors) to engage in long-term place-based climate action is scarce.
The project will engage with schools in some of the most deprived areas in Hackney. It aims to develop young people's 'creative leadership' capacity by boosting skills which are less attended through the school curriculum. It focuses on aligning their personal aspirations with sustainability values, empowering them to envision and create policies, enterprise and environmental championship in their community.
"Many grow up in homes where making ends meet is the main focus of everyday life. This results in poor participation in public life, which keeps them locked into disadvantage. The Covid-19 pandemic aggravates the situation – whilst the urgency to address economic and environmental issues increases, opportunities for young people decrease as they are leaving school in a time when job prospects are severely reduced, placing their wellbeing at risk."

Project Lead, Dr Laura Santamaria
What does the project aim to do?
The project has been conceived between all partners to produce contributions at several levels by combining research, co-creation of resources, skill development and public engagement:
Outreach: Engaging over 120 young people of different abilities and from various socio-economic, ethnic backgrounds to envision and plan for their future, as well as resourcing them for climate action and regeneration. It will be a key initiative that builds on existing work within Loughborough University's Widening Participation plans, enhancing place-based relationship between the university and the local community.
Ongoing Training: This project will focus partner's joint efforts to co-create relevant and innovative provision for young people's long-term, meaningful climate action engagement, as wells as economic regeneration by developing leadership, creativity, digital and entrepreneurial skills.
Resources: The Community Action Heroes toolkit, comprising a set of activities, digital games and supporting resources. This package will be publicly accessible to download online. The project team will also publish a guide with the methodologies and case study of application in our community, which will be disseminated through partners' networks to inspire implementation in other UK localities.
Policy: Finally, the project also feeds into CUK's strategy for influencing the London 2021 Mayoral elections' stand on climate action and economic regeneration with a focus on lower income groups. CUK will adopt the collaborative practices and tools developed through this project for citizens to co-create with decision-makers, promoting a more democratic and inclusive process for local policy-making.
Who is involved in the project?
The Institute for Design Innovation leads the project, with partners including: Citizens UK Hackney, service design agency Snook, Hackney Council, local schools and enterprise incubators.
Project Lead – Dr Laura Santamaria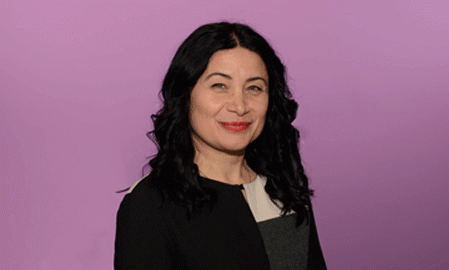 Laura Santamaria is Lecturer within the Institute for Design Innovation and Programme Director for the MA Design and Culture. She champions grassroots innovation approaches and knowledge transfer with a focus on place-based impact, developing projects with local stakeholders in our community. She is co-founder of pioneering lifestyle magazine, Sublime and chair of the Fair Energy Campaign.
Co-Investigator – Dr Ksenija Kuzmina
Ksenija Kuzmina is also a Lecturer within the Institute and leads our MSc Design Innovation programme at Loughborough University London. Her expertise is in service design for social change, with a wide range of work in the contexts of sustainability and education. She is an Associate Editor for She Ji: The Journal of Design, Economics, and Innovation. Her recent publications can be found here.
Research Assistant – Sina Marleen Petersen
Sina Marleen Petersen is a postgraduate student studying Entrepreneurial Design Management at Loughborough University London. Sina works as a design practitioner and innovation strategist and has previously worked with student entrepreneurs to activate change through design in South America and India. Her research work in design for social innovation focuses on cultural sustainability and is led by an interest in human consciousness.
---
To find out more about our Institute for Design Innovation, please visit our website.
Loughborough University London
Blogging everything that's happening at Loughborough University London