Loughborough University London Inspiring Success Programme
The Loughborough University London Inspiring Success programme is currently in its 6th year with our latest 2020 cohort.
What is Inspiring Success?
Inspiring Success is a two-part programme designed to provide employability support to unemployed and underemployed East London graduates. As part of this exciting opportunity, participants are invited to attend insightful workshops delivered by Loughborough University London staff and experienced trainers. As well as access to the workshops, eligible candidates are also invited to apply for a 100% scholarship for a master's programme of your choice offered at our London campus.
Our Inspiring Success workshops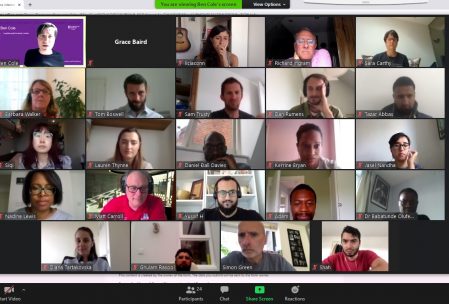 We welcomed our latest participants to the workshop programme in June 2020. For the first time, the sessions were completed virtually across a series of six online evening workshops. The programme was led by the Future Space team and throughout the programme we covered a range of topics, including:
• networking
• recruitment
• LinkedIn
• and interviewing.
"The sessions have all been really insightful.  The interviews were tough but great.  The programme has really boosted my self-confidence and given me the energy to want more.  I am excited about the potential to study at Loughborough University London – thank you to all who put the programme together." 

Shah Rahman, Inspiring Success participant 2020
Whilst staff and trainers delivered the sessions, we always encourage our participants to get interact and engage in the session content and therefore our sessions featured various activities including video interview tasks and whole group discussions to make sure everyone had the chance to get involved and share their experiences.
Our workshop on LinkedIn was popular with participants taking us into the deeper depths of the world of LinkedIn. Throughout the session everyone explored the newly discovered functions on LinkedIn, and participants were encouraged to try these features out. Each of our experienced trainers delivered interactive sessions giving our participants a chance to discuss their experiences and challenge them to reflect on of ways they can put the lessons from the sessions into practice.
Another favourite moment for many was when three graduates from the Inspiring Success programme joined the workshop. Our participants were inspired by their experiences and discussed the positives of coming to study at Loughborough University London. Our alumni gave some great tips on how to make the most out of your experience studying by getting involved with extra-curricular activities and enjoying the sense of community here at Loughborough University London.
Our penultimate session saw participants take on the challenge of speed interviewing. We invited interviewers from different businesses including BT Sport, Ford and Here East to come along to the session and give participants a great chance to practice their interview skills. The session was fast-paced, fun and energetic for all involved! The programme ended with our enjoyable celebration session, where our participants described the programme as engaging and inspiring. Our staff were praised, and participants felt the staff's enthusiasm and passion for Inspiring Success made the experience more exciting and encouraging.
"I thought the level of organisation for a complex session, the energy brought by all participants, and the overall intent of the session were all fantastic. I respect the initiative and, like some of my fellow interviewers, I am always enthused to see programs like this that offer what some of us did not get during our university experience – keep it up! I also feel particularly passionate as someone who, for most of my adult life, fell into the unemployed/under employed category and felt inadequate because of it. Fortunately, I got an opportunity at BT Sport but I have also repaid that faith many times over with hard work. Students should be encouraged and supported as much as possible, so well done everyone at Loughborough!"
The Inspiring Success Scholarship
As well as offering employability support and access to 1-to-1 career consultations, the Inspiring Success programme offers participants access to apply for Inspiring Success scholarship. Eligible participants can apply for a 100% scholarship to study a master's programme with us here at Loughborough University London. Our Inspiring Success workshops are a fantastic opportunity to benefit underemployed and unemployed East London graduates and empower you to take the next steps in your career journey.
If this opportunity or the scholarship interests you, check out our website and we might see you in September or as part of next year's Inspiring Success team!
Loughborough University London
Blogging everything that's happening at Loughborough University London