MSc Entrepreneurship and Innovation: A collaboration between IESEG Paris, IIM and IIE
Loughborough University London have joined forces with IÉSEG School of Management to launch a new joint master's degree programme MSc in Entrepreneurship and Innovation.
Dr Gerhard Schnyder, Institute Director of the Institute for International Management, recently visited IÉSEG School of Management in Paris to meet the first ever cohort of this new programme. Read more about Dr Gerhard Schynder's experience below.
---
"Two weeks ago I had the privilege to be in Paris to meet the students of the first ever cohort of Loughborough University London – IESEG students on the new MSc Innovation & Entrepreneurship jointly delivered by the Institute for Innovation and Entrepreneurship, Institute for International Management, and IESEG School of Management in Paris.
IESEG is based in a great location in Paris at La Défense business district. The main building is situated just behind the iconic Arche – where IESEG also has offices and teaching space. Thanks to the mild and sunny weather in Paris in September, we managed to have an informal meet and greet event on the lovely roof terrace of IESEG's building. We have a great diversity of students on the programme from various European, Middle Eastern, and Latin American countries. Some have already an impressive record in establishing their own companies. Students were really excited about joining Loughborough University London for term 2 in February and had plenty of questions about living and studying in London.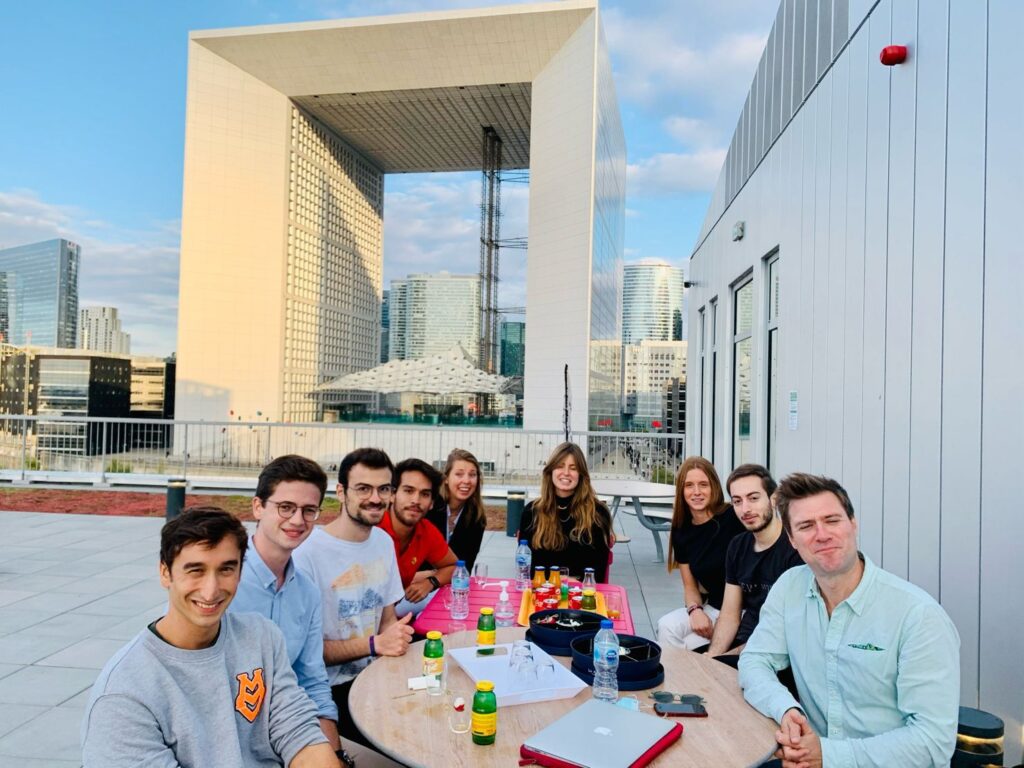 Of course, I did not travel all the way to Paris just to enjoy myself. I did attend a session of the Collaborative Project module taught by Tiago Ratinho who is the co-director of the programme on the IESEG side together with IIE's Louise Scholes on our side. Students on our programme have started the CP at IESEG a few weeks ago. The term in France starts a few weeks earlier than ours. During the session students were delivering their sales pitches for the entrepreneurial projects that they will be working on in groups until Christmas. The IESEG Collaborative Project will allow students to develop their business ideas into innovative projects in a very hands-on and entrepreneurial way. There was a wealth of exciting ideas, including projects aiming to use innovative technologies to address societal issues. It will be great to see how these projects develop over the next months.
The students will then join us for term 2 in January/February 2022. Like at IESEG, the focus of term two will be very much on students acquiring crucial skills for prospective or existing entrepreneurs to have, including modules on new venture creation, corporate finance, and institutional foundations of entrepreneurship. The programme is distinct in that it is providing students with very hands-on skills helping them in their business ventures, while also providing solid academic and theoretical skills. Students will also benefit from our sector-leading Future Space team in London who will provide extensive support as students are building their careers, reaching from CV writing, to alumni and industry networking events etc.
Students on the programme can choose from different types of dissertations: the traditional academic research dissertation or a 'collaborative dissertations,' where the student works with a company on a project either while doing an internship with the company or as an external. Students also get to choose if they want to do their dissertation in London or Paris.
The programme provides students with a strong interest in entrepreneurship and innovation a great opportunity to study in two of the best student cities in the world, on two very entrepreneurial campuses, with great support for their career development and their business ideas. I look forward to seeing our new partnership with IESEG flourish in the coming years."
---
We would like to say a big thank you to Dr Gerhard Schnyder for sharing his experience with us in this blog.
If you would like to find out more about this programme, please visit the MSc Entrepreneurship and Innovation programme page here.
To find out more about Loughborough University London, please visit this web page.
Loughborough University London
Blogging everything that's happening at Loughborough University London