What is there to do at Here East? – A Canalside Overview
Loughborough University London is situated next to a wide range of brand new retailers on Canalside. Aptly overlooking the canal, there are five very different places to get something to eat, and even a shop where you can get yourself a bike! Let's take a closer look at what's on offer from the new retailers at Here East.
The Breakfast Club
The Breakfast Club joins the Here East complex as part of a group of existing other cafs in the area. This Hackney-grown business doesn't only serve breakfast, you can grab your lunch and evening meal there too! With a very wide ranging menu, their brand new Here East location is perfect for students and staff to get food at any time of the day! With brunch options at weekends, The Breakfast Club serves all day every day so is the perfect place to treat yourself to a pancake! You can check out their menu here.
Randy's Wing Bar
Based on a love of chicken wings, Randy's Wing Bar is ideal for chicken lovers everywhere. Open throughout the afternoons and evenings, it's a great place to try for a lunch or dinner out! (Imagine that as a treat between lectures…) The guys who own the bar have taken lots of inspiration from tasting chicken wings all over America before setting up their own business. With snacks, mains and desserts on the menu, you can pop in for a lighter bite or go all out and try a range of different things on the menu!
Offers:
All you can eat wings! Monday night, from 6pm, all you can eat wings £12, please book.
Happy Hour. Tuesday- Friday, 5pm – 7pm, House cocktails, and Randy's Pilsner.
Gotto
You'll be in for an absolute surprise with Gotto's daily changing menu and there's bound to be something new and exciting to try every time you go in. A casual rustic Italian trattoria, Gotto's menu is full of delicious homemade breads, pasta and mouth-watering ice-cream. With craft beers also on tap, you would be in for a well-rounded eating and drinking experience as you gaze out across the canal in the evening. Gotto is open across a range of times over the week, head to their website to find out more.
Shane's on Canalside
With a menu focusing strongly on meat, line caught fish and wild foraged seasonal produce, Shane's on Canalside offers grilled food, sides and weekend breakfasts to name just a few things! They also have a strong drive to promote ethical food and drink produce within their restaurant. Open all day from 11 am (except Mondays), there's plenty of time to try out Shane's and find your new favourite! Check out the various menus online here.
Offers:
25% off the normal menu and drinks, Monday to Friday 11am- 7pm.

Bottomless brunch Thursday- Sunday £29 (One choice from our brunch menu including Sunday roast plus any house drink- Draught, Fizz, house wines for 2hours.)

Kentish oyster special with samphire and shallot – £1 each, 11am to 7pm, Monday to Sunday.
Mason & Company
Mason & Company's food is provided by Capish? which began as a street food stall several years ago. Their new site at Here East is open from 10am until late and is best known for meatball sandwiches! A great addition to the site and something rather different to the other eateries. Also stocking a range of craft beers from Five Pints Brew, this restaurant has an eclectic and interesting back story and is all there for you to explore. With a lovely interior, this restaurant has a welcoming atmosphere with a modern twist. Take a look at their website and sign up for special offers here.
Offers:
Happy Hour. Monday to Friday, 5pm- 7pm is £3 a pint of Five Points Pilsner, and Aperol Spritz two-for-one.
Not forgetting…The Bicycle Man
Admittedly, you can't grab yourself a nice beverage or meal here, but you can take the opportunity to buy yourself a bike to cycle around the city or even get your current one fixed! As LU London sits in the East side of the Capital City, a nice sunny day is just begging for you to take a ride down to Oxford Street or the West End to explore the shops and culture that London has to offer. An easy method of transport for work or for leisure, The Bicycle Man will be able to advise you on the perfect bike for you and your travelling needs!
There really are a great range of options for you all on site at Here East, and a lovely outlook onto the canal too! Current and new students have a lot to explore now and in the coming months, so why not take a look at the menus and websites of the new retailers and see what takes your fancy? Perhaps then you can cycle home later on…? Many of the restaurants have fantastic Instagram accounts showcasing their lovely food and drinks that will definitely tempt you into treating yourself to a nice meal or two during the week.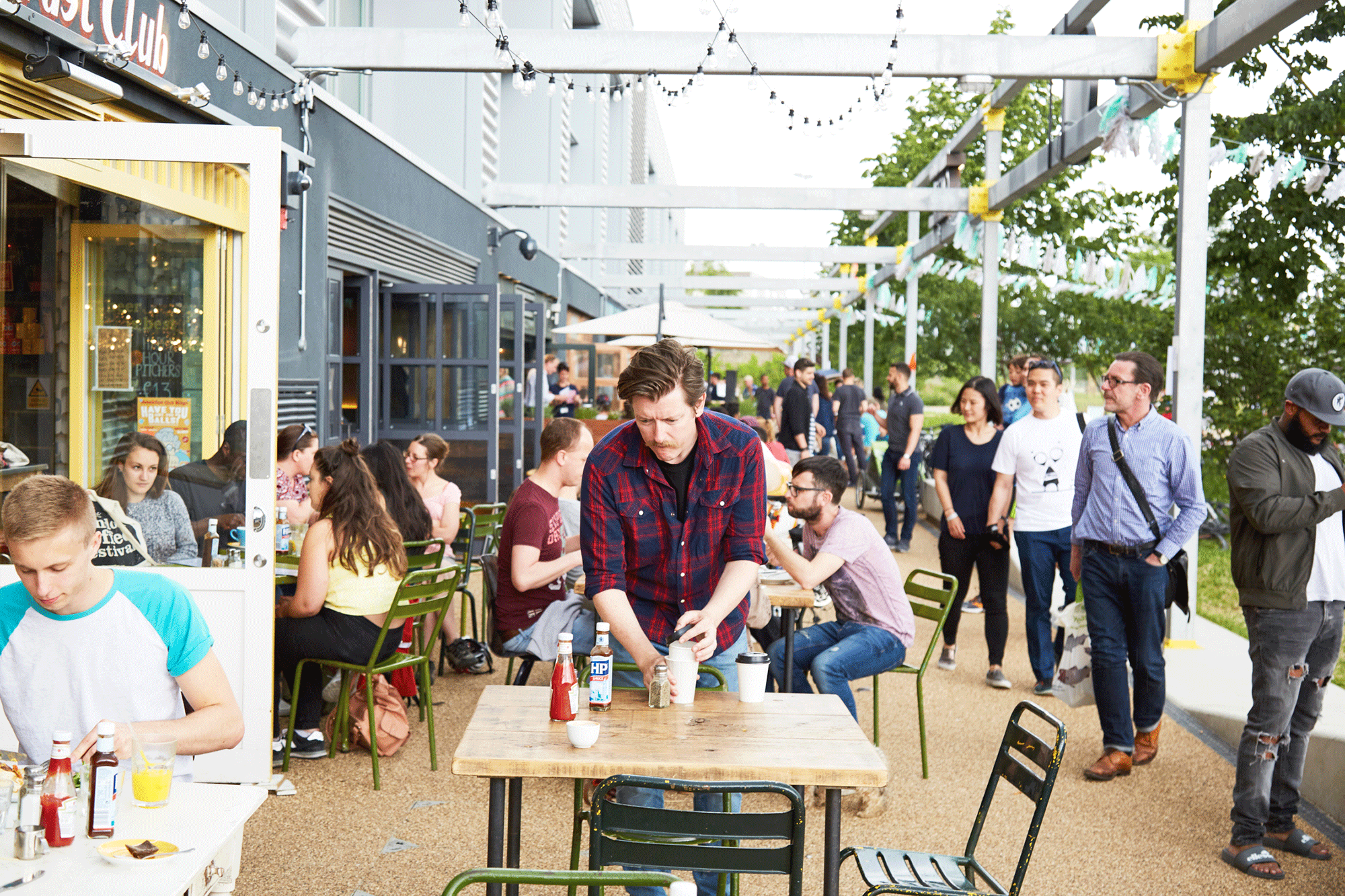 Many thanks to Here East, The Breakfast Club, Randy's Wing Bar, Gotto, Shane's on Canalside, Mason & Company and The Bicycle Man for the images.
Loughborough University London
Blogging everything that's happening at Loughborough University London