Studying at the UK's premier University for Student Experience
Siddharth Kohli, MSc Sport Business and Innovation student, reflects on his experience as a postgraduate student at Loughborough University London, the UK's Number 1 University for Student Experience.
---
Very few things compare with studying at a world-class University in an iconic city. Throw into the mix a campus on the prestigious Queen Elizabeth Olympic Park in London and a teaching faculty comprised of world-renowned scholars and established industry leaders, it is not surprising that you end up with one of the best and most incredible student experiences.
Having decided on pursuing a Masters degree in sport business, I spent months researching universities that could offer teaching from leading academics, as well as invaluable networking opportunities. These were the crucial deciding factors for me, as to pursue a masters, I needed to quit my job with a leading broadcaster in Delhi, which was a big sacrifice to make.
I was fortunate enough to receive offers from universities in Europe and Australia, as well as other universities in the UK. However, once I had applied to Loughborough University London, I was firmly set on this University being my first choice. Loughborough University has a history of delivering excellence in sport teaching, coaching, peformance and research, and each time I reached out to professionals in the industry, they were familiar Loughborough University's sporting prowess. I remember a meeting I had with a Loughbourough University representative in New Delhi. This is where I was first told of the University's plans to expand into London and open a brand new campus on the Queen Elizabeth Olympic Park, home of the London 2012 Olympics.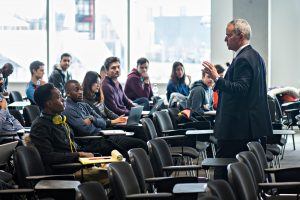 Not only do students have a chance to study with an internationally recognised institution for sport, but the University also offers teaching and research opportunities which are delivered in partnership with major organisations, such as BT Sport, Decathlon and West Ham United. This was a huge incentive for a sport student like myself. These developments, along with the opportunity to be one of the torchbearers building Loughborough's reputation and spirit in London, made an otherwise daunting decision, a fairly straightforward one for me.
Being based in London and on the Queen Elizabeth Olympic Park means students have access to a number of iconic sporting venues and organisations in close proximity, such as the Olympic Stadium, which hosted the 2015 Rugby World Cup and is the new home of West Ham United Football Club. There is also the London Aquatics Centre, Lee Valley Velodrome and Copper Box Arena, where Loughborough University students can access the gym, swimming pool and sporting facilities.
What's more, in less than 10 minutes' walk is Westfield Stratford City shopping and leisure mall, one of the largest malls in Europe, boasting a plethora of over 200 restaurants, bars and cafes. There's also a cinema, a huge outdoor screen showing live sport and a bowling alley. Because Loughborough University London is a postgraduate-only campus, the building has a smart, professional vibe, but the hundreds of young, 20-something students from around the world create a youthful buzz across the whole of the campus.  Everyone is looked out for by a fantastic student support team, who help us with everything from timetabling and assessments, to careers coaching, job applications and IT assistance. We have access to loads of on-site computers and MacBook laptops, which we can check out to finish assignments, conduct research and work on any other projects we like. It is fairly easy to locate programme books and other reading material at the library, and there are over 1.2 million e-books and print items available on request.
Moving to London as a student could really go either way. The city can bog you down and tire you out, or it can broaden your horizon and open doors you perhaps would never have imagined. In my experience, it has been an absolute privilege to study in London. Through my programme, I have had access to leading organisations and guest speakers, as well as some fantastic networking events. When I'm ready to take a break from my studies, there are thousands of incredible restaurants, clubs and tourist attractions to choose from. I have had the privilege of making friends with a number of ambitious, like-minded people both on and off campus.
On campus, we have a number of classrooms, varying in size. For classes with around thirty-odd students, lectures are conducted in smaller, more intimate rooms, whereas lectures with over a hundred attendees take place in much larger spaces. We have had a few lectures in the London Aquatics Centre, where the swimming events for the London 2012 Olympic Games took place.
Having studied briefly in the USA, I would argue that London offers a better experience for students like me. It is truly a global city and a great place for international students to study. I truly believe that my MSc at Loughborough University London has gone a long way in enhancing my career prospects. Being based in London has created an unbelievable amount of opportunities for me to connect with people I never thought I would meet, let alone go on and collaborate with.
Loughborough University London
Blogging everything that's happening at Loughborough University London