Wing's student experience – how to secure internships
This week's blog post is from Wing, who is one of our Inspiring Success Scholars. Wing shares his Loughborough University London experience, along with tips to make the most of networking and internship opportunities.
My experience at Loughborough University London was as unexpected as my application. Attending the university was not a deliberate career step but I am grateful to have attended so many activities, events and workshops delivered by staff and students. This has equipped me with an array of skills and an exciting network to be part of. I've met lifelong friends, people from all over the world, and motivated peers that will drive me to continue developing long after graduation.
Taking advantage of these opportunities however, is a balancing act equivalent to juggling three bowling balls while a small bear with flaming torches in each paw gnaws at your leg. But if you are focused and deliberate with your time, you will build an awesome portfolio of experiences that will lead to a fulfilling career.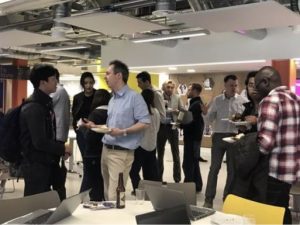 Academic excellence is an important part of career development, but you will likely have heard the necessity of having industry experience and knowing the right people.  To be in the right place at the right time can cascade into a world of fortune. Your ability to do great work while attending the right events can fulfil the expression that "luck is where preparation meets opportunity". If you want to create your own luck, start saying yes. When you don't need to say yes, learn to say no.
Saying that, if you're looking for industry experience, a great way is an internship. For many, this can be an entry-point to a field or industry you care about. But I also know that many are afraid of rejection. But getting over that fear has led me to an internship during my Christmas break, another for my dissertation, co-hosting the Women in 3D Printing event, meeting partners at HereEast and a bunch of other goodies.
So, if you're interested, here are my top tips for getting an internship:
Share knowledge and have opinions. Take an interest in current and past events. Have an awareness of global events, market trends and people. Being able to engage with others on different topics leads to meaningful discussions which leads to memorable impressions.
Show your excitement and enthusiasm. I've found opportunities just by happily rambling on about something I cared about, and this goes a long way in showing the other person who you are and what you value.
Take the initiative to send a message on LinkedIn. You have nothing to lose and you can tailor your message for as long as you want (but don't go nuts and sit at your keyboard until the seasons change.) A lot of employers don't want to wait for the HR department to go through a pile of job applications, they want a willing and excited candidate to seek them out instead.
Be curious about who is in the room. Figure out how you might connect or bring value to them.
Finally, it's a little better to be excited and less clear than it is to be really clear and not excited. Your body language and enthusiasm will bring the discussion to life, so don't worry about being articulate if English isn't your first language.
Learning how to communicate in-person with others and having an idea of different topics has definitely brought me a lot of opportunities. Like many things, it's just another skill to develop. So, get in front of the right people, expand your opportunities by saying yes and cut down the excess by saying no. Remember the balancing act? This is that.
---
Thank you Wing for your insightful blog post. Take a look at our events page, which is where we advertise upcoming careers events and networking opportunities on campus.
Loughborough University London
Blogging everything that's happening at Loughborough University London