Collaborative Project – Blaze
Collaborative Project Site Visits
Today, many of our Collaborative Project students are visiting their project partners at their offices. Visits are being made to Blaze, North Highland, Crate Brewery, Digital Skills Solutions, Department for International Trade hosted at China-Britain Business Council (CBBC), HeyBigMan!, Foster & Partners, Two Circles, Active Newham. Our students have also had the pleasure of visiting West Ham United Foundation on Monday.
We thought we would take a look at Blaze, to explain what it is they do and why they are a fabulous company for our students to work with on a real life business project as part of their studies.
Blaze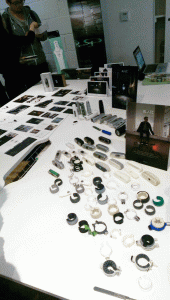 Blaze are a small company which creates the LazerLights that are now being added onto every one of the 12,000 Santander Cycles around London. They pride themselves in creating 'innovative products for urban cyclists with technology and design at the core.' Blaze are a magnificent company who only have a small team of 7 staff! It is great to show our students how such a small workforce can achieve so much, and Blaze are a great advocate for this.
The LazerLight
The LazerLight product is a fixture to the handlebar of the bike. The light projects a green bicycle sign out to 6m ahead of the bicyclist. This allows for drivers, pedestrians and other cyclists to acknowledge the presence of the cyclist in what may have previously been blind spots, junctions and other decreased visibility situations. The LazerLights can be recharged by USB in just 4 hours!
The Burner
Blaze has created a range of 'burners' to attach hassle free to the front or the back of your bike. The burner has a light sensor which can determine whether it is light and thus does not need to be on, or dark and turns on to alert other drivers/cyclists that you are present without you having to stop and turn the light on. They also have 180˚ visibility due to the way they have implemented the LED technology.
Previous Collaboration with Blaze
This isn't the first time that Blaze has worked with our Collaborative Project students as they were also partners for our first cohort of students in 2015. This is the second time that students have visited their headquarters and we are delighted to have Blaze as partners once again.
Take a look at the video Santander produced to announce Blaze's LazerLights going on London's Santander bicycles.
Loughborough University London
Blogging everything that's happening at Loughborough University London