This time last week our students were busy creating prototypes for their Collaborative Projects. The students had a schedule combining lectures, seminars, and group work in order to create a model to show to the project partners, module leaders, students and various others who will attend the Collaborative Project Trade Fair on December 13th.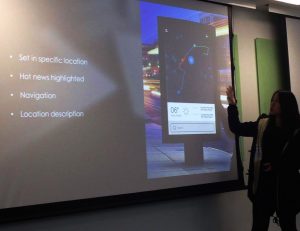 Within the lecture hours, the teams of students gave presentations on their ideas so far following the abundance of market research and brainstorming that they had collated. For some of the student groups, their collaborative project partners came onto campus to hear what the students had planned in order to help guide them by giving constructive feedback to help develop on the teams' already great ideas.
The presentations were a great way for students to improve their public speaking skills and display the hard work that they have already invested into the projects before the final stretch of the module.
The theme for last week's Collaborative Project surrounded 'Prototypes'. Students had access to a variety of creative materials in order to create an actual model for their ideas in order to visualise the final product and consider the aesthetic of the product.
The FabLab located on the second floor opened for the day so that students could get creative with their ideas. Students used 3D pens, poster printers, arts and crafts products, and design software in order to create their pieces.
---
We look forward to seeing the final pieces and presentations in a couple of weeks time.
Loughborough University London
Blogging everything that's happening at Loughborough University London