There are three groups of individuals who can edit reading lists: course tutors, (school) support staff and Library staff.
You can add or remove people to these group by clicking on the

Group icon (on the toolbar). Select the appropriate group from the popup window.
To add someone enter their University username into the "Add user" prompt at the bottom of the window and click on the

Add

link
To remove someone's edit right click on the

Remove

icon to the right of their details (you can't remove yourself)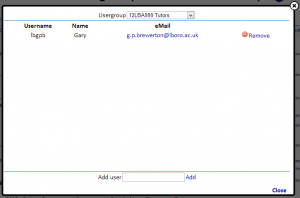 If you find you can't edit a reading list that you think you should be able to then please don't hesitate to get in contact with the Library.