'Just called in to the Medal Makers office on Wednesday morning, 4th July. Should have realised it was an auspicious date. There did seem to rather a lot of police around and I had to be let in to a locked building.
 Alex was running hither and thither but showed me the basics of the blog software and I settled down to familiarise myself with the software.  After a short while Richard came in and said 'come and see'. It turned out we had visits from Princess Anne and Sir Stephen Redgrave to watch the basketball team in training.
There were three Medal Makers volunteers who had been working at the Customer Service desk. 'We didn't realise anything special would be happening until several policemen arrived with sniffer dogs!' said one. The policemen did a sweep and told the volunteers to lock the doors. One of them mentioned that Princess Anne was coming.  That set them buzzing and there was a quick clear up of coffee cups, and straightening of purple t-shirts!  They decided perhaps they didn't need to practice a curtsey!
A short time later we went downstairs hoping they would let us out and found ourselves in the foyer at just the right time.  Someone came out and asked if we had a bag to put a presentation in.  Alex, with quick thinking, saw that I was holding a purple Medal Makers bag said 'Quick empty that bag'. So Princess Anne is now the proud owner of my MM bag!! Even if it was carried by a Lady in Waiting!
 When the Princess  left the sports hall we were all standing in a row, she came over to us for a chat!  She asked us what we were doing and if we were at the university all the time. Alex came over to help explain the Medal Makers role and how essential we were to the running of the preparation camp! She told the Princess that Georgina was helping with the laundry and she laughed and said she hoped they would buy her a new washing machine. The rest of us told her our roles and she asked if we lived locally and remarked that we were a real cross section and she was pleased to meet us. 
Then Sir Stephen Redgrave came out and  one of the volunteers asked if she could have a photo with him. He was really nice and we all posed while his companion took our two cameras and took the photo.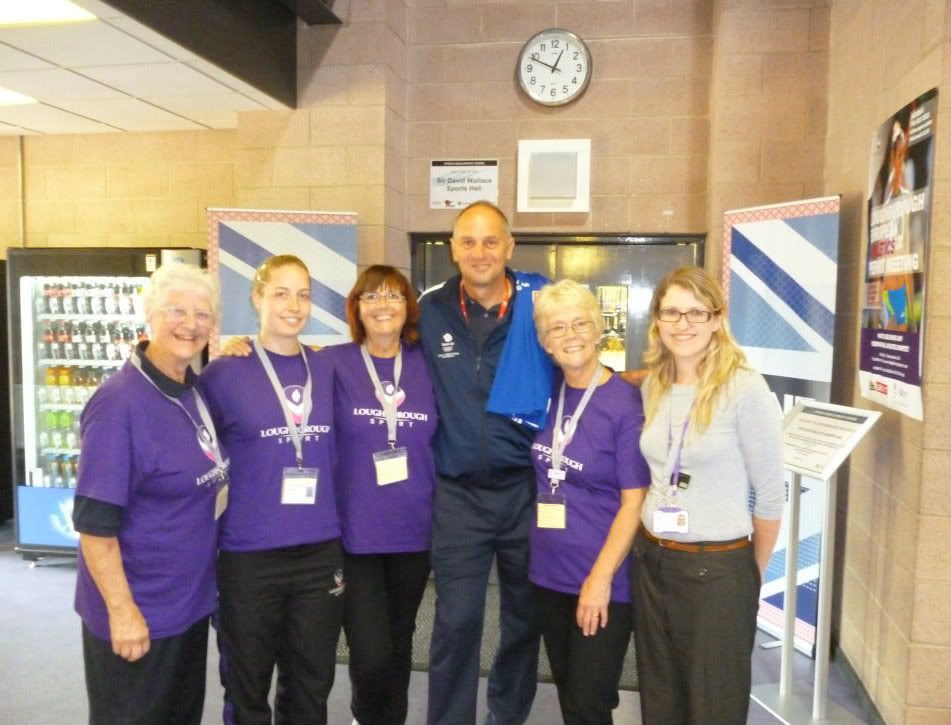 All in all quite a morning for the volunteers in the Medal Makers' office!'