Andrew Dix, Lecturer in American Studies at Loughborough University, breaks down five Christmas films to watch during the festive period.

What makes a Christmas film?
The mere inclusion of scenes set at Christmas seems too weak a criterion: otherwise, something like Red (2010), an action film beginning with a gunfight during this season that sends bullets flying into decorative snowmen, could make the cut.
Instead, a stronger definition of the genre, if it can be called that, is required. In this spirit, the films chosen here take Christmas not simply as setting but as theme, as material for self-conscious reflection. To quote one of the selection's Santas: 'Christmas isn't just a day – it's a frame of mind.'
While spanning sixty years, and genres that range from noir through animation to horror, the list that follows is necessarily exclusive. No room is available at this particular inn for films such as White Christmas (1954), or Bill Murray's Scrooged (1988), or Bad Santa (2003). Or for perhaps the oddest of all Christmas movies: Santa Claus Conquers the Martians (1964), in which spiritually arid Martians, anxious at their children's enthusiasm for Father Christmas, capture him and bring him to a spacecraft whose fittings would have cost little more than a box of bargain crackers.
People jaded by the compulsory jollity of this holiday period may be energised again by the complexities and challenges of the Christmas films selected here. Their versions of the festive season are not saccharine: instead, bitter ingredients are to be found in their eggnog, as it were.
It's a Wonderful Life (1946, dir. Frank Capra)
This film's status as sugary Christmas fare is the product of inattentive viewing. To witness James Stewart late on as George Bailey, harrowed features framed in close-up, is to see someone who would be more at home in decidedly non-festive cinema. David Thomson is spot on when he writes that, for all its affectionate attention to the textures of Middle America, It's a Wonderful Life 'is also a film noir itching to get out and infect the small-town assurance'. The film's conclusion cheers, undoubtedly – but it is not absolutely clear that George's existential doubts won't be renewed once the decorations come down.
Miracle on 34th Street (1947, dir. George Seaton)
No other Christmas film has scenes set in the psychiatric wards of New York City's Bellevue Hospital, or shows its Santa subjected to a 'lunacy hearing'. In Miracle on 34th Street, however, Kris Kringle's goodness and twinkle are initially insufficient to validate his claim to be Santa Claus. Against the claims of 'realism' (interestingly presented here as a female rather than male domain), the movie poses what one character calls 'the lovely intangibles'. Ultimately, imagination wins out, but not without damage. Don't settle, by the way, for the 1994 remake that starred Richard Attenborough.
The Muppet Christmas Carol (1992, dir. Brian Henson)
Intriguing that an array of foam-based puppets is involved in perhaps the warmest and wittiest of the many versions of Dickens's 1843 classic. The film is authentically moving in its evocation of Victorian suffering: Kermit, as Bob Cratchit, carries Tiny Tim whose crutch dangles poignantly, while an exuberant song about 'only one more sleep to Christmas' cuts sombrely to one of the puppet dispossessed who is shivering in newspapers on the street. Lest the mood grow overly melancholy, however, the film is studded with jokes. You might, for example, remember Jacob Marley from A Christmas Carol: here he has a brother called Robert.
The Nightmare Before Christmas (1993, dir. Henry Selick)
The Devil has all the best tunes, as they say; and the energy of this stop-motion animated film derives from its perverse reimagining of a benign Christmas. Jack Skellington, the 'Pumpkin King' of Halloween, engineers a demonic makeover of Christmas Town: a child holds up the shrivelled head it has received for a gift, and a satanic snake ingests a Christmas tree, baubles and all. Father Christmas himself is kidnapped (shades of Santa Claus Conquers the Martians). 'Haven't you heard of peace on earth and good will to all men?', someone asks: 'No' comes the cackled reply of a trio of ghouls, speaking up for the film's gleeful subversiveness.
Rare Exports: A Christmas Tale (2010, dir. Jalmari Helander)
Disturbing elements in the other titles chosen above are maximised in this Finnish horror movie. Reindeer cannot dash through the snow here because they lie slaughtered on it; elves are no longer Santa's little helpers, but his little child-abductors. Santa himself is a horrifying, primeval figure, malevolent twin of the presiding spirit in Miracle on 34th Street: he is, undoubtedly, the baddest of all movie Santas. But there is much inventiveness, too, and in its tale of Laplanders burying Santa Claus in ice centuries ago the film perversely takes up a plea often heard at this season to return to older meanings of Christmas.
Photo: By Helgi Halldórsson from Reykjavík, Iceland (The Nightmare Before Christmas) [CC BY-SA 2.0 (http://creativecommons.org/licenses/by-sa/2.0)], via Wikimedia Commons
---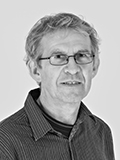 Andrew Dix is Lecturer in American Studies at Loughborough University. His areas of interest include African American culture, twentieth- and twenty-first century US fiction, the literature and cinema of US sport, film adaptation, Hollywood stardom, cinema and globalisation.
LIKE the Loughborough University Facebook page | Follow Loughborough University on Twitter | Follow Loughborough University PR on Twitter | Subscribe to the Loughborough University YouTube